When West Oxfordshire Academy of Performing Arts (WOAPA) singing group couldn't meet up any more, the principal Brian Conroy wanted to keep the singers singing nevertheless. The result is a wonderful video recording of 44 members of the group singing the song Thankful, dedicated to the NHS. Play it here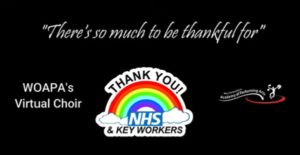 "We couldn't end our term because of the lockdown but wanted to do something. My background is in the social services and in the community and many of our members work for the NHS or as carers. Thankful is a song we have often sang and everyone loves it. So that's how it started," Brian recounts the origin of the idea.
WOAPA singing group started in 2011 with 22 singers and has since grown so that they now have a beginners group of 50 and 'established' singers of group of 80.
"We specifically don't call ourselves a 'choir' and don't sing traditional choral music," says Brian. "We often have people saying 'I can't sing' and we say, 'Yes you can, come along and have a go!'"
This very attitude certainly fired the production of Thankful, too.
"I had never done any video editing before!" he admits. "But slowly it began to come together."
Everyone in the singing group took part, learning or relearning the song, and 44 were happy to video themselves singing it. Brian's wife Louise conducted the piece, and their son Thomas, also a musician, did the musical arrangement. Their other son Edd assisted with the video editing.
So, a bit of a family affair – but then, as Brian says, WOAPA really is a family for those who are involved in it. Now Brian and the group already have another project on the go. So far it is a secret – but we will certainly report on it. In the meanwhile, enjoy the beautiful Thankful!
We are sorry you did not find this page helpful
Tell us how we can improve this page