Don't forget that if you're considering leaving the Armed Forces and looking for a new role, why not see our vacancies here and join the Oxford Health family.
A message from our Armed Forces lead
Martyn Ward is the Executive Director for Digital and Transformation and involved with leading the work we do to support our veterans.  Following the recent events taking place in Afghanistan, he would like to remind colleagues about the support we offer veterans and their families.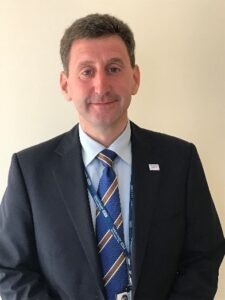 "As we continue to see ongoing conflict in Ukraine, we know that many staff, in-particular veterans or reservists, may be affected by what is happening. If that is you, then we want to remind you that help is available.

"Oxford Health is part of the Armed Forces Covenant which means we are committed to supporting all members of the Armed Forces and their families, both past and present. As part of this commitment, we employ a number of veterans supporting them to utilise their transferable skills and carve out new careers with us. We also provide partnership services, as part of Op COURAGE, offering specialist treatment and support for military veterans and their families who are experiencing mental health difficulties.

"Our staff are our greatest asset and your health and wellbeing is a top priority so we would like to encourage you to talk and to speak up if you are struggling in any way. Please talk to someone you trust, like a friend or family member, about how you are feeling. We also have an Armed Forces champion at the Trust who is available if you need to speak to someone outside of your network, and there are organisations that are there to help you get the support you need. Details of these are below. You are not alone in any emotional struggle you may be experiencing so please reach out.

"If you're a manager or team leader, please take the time to check in with your teams to see if this issue if affecting any of them. They may not be a veteran but they may have family or friends who are affected by this situation.

"Don't forget that we need to support each other during this time."
What we do at Oxford Health to support our veterans
We actively encourage veterans to join our Trust by hosting and supporting roadshows to let the Armed Forces community know about how we can develop their careers. We have a proud record of supporting those who have had careers in the RAF, Army and Royal Navy to find fulfilling careers with us and utilising their many transferable skills.
Offer a number of benefits to Armed Forces employees including additional leave to reservists during their annual camp training.
We are part of the national Step into Health programme – a partnership between the NHS, Walking with the Wounded and The Royal Foundation – and helps service leavers, veterans and military family members to find new a new worthwhile career in the NHS.
Offer mental health support via:
A word from our veterans
Oxford Health employs a number of people who served in the Armed Forces. Find out more about some of these brave servicemen and women below.
Reginald Adjei
Reginald Adjei is the deputy ward manager of Ruby Ward at the Whiteleaf Centre and served as an infantry soldier in the British Army for nine years.
"After I left the Armed Forces I struggled for a while and moved from job to job before I decided to study to become a nurse.

"I've been working at the Trust for two years and my ward manager has been very helpful and supported me when I needed time off to work with SSAFA to support soldiers transitioning to civilian life.

"I am currently enjoying the role and I get on well with both patients and staff.

"I believe the experience gained in the army is helping me in terms of discipline, team working and effective time keeping."
Martin Brimacombe
Martin Brimacombe served in the British Army for 24 years before he became an Estates Officer at the Trust in 2018.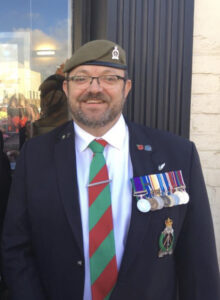 "Seeing the events unfolding in Afghanistan brings me back to when I was serving in the army. I lost solider friends and came across a huge selection of wounded service personnel with amputations, facial injuries and other life changing injuries whilst undergoing my spinal rehab at Headley Court, the UK's leading rehabilitation centre for soldiers wounded in conflict.

"This was a really challenging time for me and I sometimes think about all of those battle-damaged people learning to live with their new disabilities and outlooks on life. We have all tremendous strength and I'm glad I made it through to tell the tale.

"Those of us that have worked in the Armed Forces have many transferable skills and I bring mine to my role every day. I enjoy coming to work trying to deal with the daily issues and occurrences. It's fantastic being a member of a well-oiled team providing support to the Trust, its staff and more importantly to service users and patients."
You can find out more about Martin's story here.
We are sorry you did not find this page helpful
Tell us how we can improve this page
Published: 8 October 2021