The trust has hosted two international visitors over the past few weeks, giving staff and our international colleagues the opportunity to share learning and good practice.
Our mental health services welcomed a multi-disciplinary team from South Korea as part of a week-long visit at the start of October. The cohort of eleven delegates included social workers, nurses, public health officials, a GP, director and a professor. Keen to understand the wide-range of services that we provide and how we do this, the South Korean healthcare professionals visited a number of teams and spent time discussing services with key staff.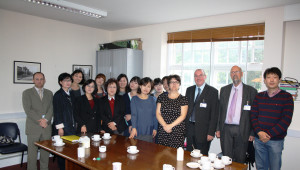 The delegates were welcomed by Clive Meux , Medical Director, Yvonne Taylor, Chief Operating Officer, and Ros Alstead, Director of Nursing and Clinical Standards who gave them an introduction and overview of the trust's services. Throughout the week, the delegates visited a range of mental health services, spending time with adult and older adult services, forensic services and services for children and families. They also visited the Whiteleaf Centre, Aylesbury which is in the final stages of development.
At the end of the visit the South Korean team fed back their sincere appreciation to all staff for their friendly welcome, open discussions and exemplary hospitality. They were very much impressed with our services and estates and interested to learn how the service remodelling is continuing to develop services. They are also eager to remain in touch and are looking at future opportunities to work with us.
On 25 September the Community Services Division hosted a visit by Dr Ted Eytan, Medical Director of the family practice division from Kaiser Permanente, Washington, DC USA.
Dr Eytan was in Oxford visiting the 'Cleanmed' conference and expanded upon his visit by visiting some centres of innovation. Kaiser Permanente is a large health care organisation in the US and provides care to 8.9 million patients (health plan members) they have over 167,000 employees. Dr Eytan has a strong interest in integrated health care systems and patient/public engagement.
Dr Eytan visited the trust's community hospital in Abingdon and spent some time working with Pete McGrane, clinical director for community services, in the Abingdon Minor Injuries Unit and Dr Dan Lasserson in the Emergency Multi-Disciplinary Unit (EMU). This was an interesting opportunity to see an area of health care not typically delivered in the USA and to speak with colleagues interested in developing innovative approaches to the delivery of health and social care. Dr Eytans' commentary upon the visit and his many interests can be viewed on twitter (@tedeytan) or by clicking this link http://www.tedeytan.com/2013/09/30/16676.