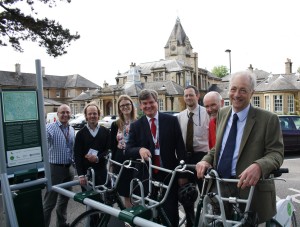 Oxford Health NHS Foundation Trust (OHFT) joined the cycling revolution yesterday with the launch of hire bike docks at three of its Oxford sites.
The Oxonbike docks, which is Oxford's equivalent to London's 'Boris Bike' scheme, has seen docks and bikes installed at our Warneford, Littlemore and Chancellor Court sites.
Funding for the bikes has come from a Department for Transport grant via Oxfordshire County Council, with additional matched funding from the University of Oxford for the Warneford site.
The bikes are part of the wider Oxonbike scheme run by Oxfordshire County Council, and extend the current network of bikes, which already covers Oxford Brookes University's Gipsy Lane campus, the John Radcliffe Hospital, the Churchill Hospital, the shopping area of London Road in Headington, Thornhill Park and Ride, the Nuffield Orthopaedic Centre and the University of Oxford's Old Road campus.
Stuart Bell CBE, chief executive of OHFT, said: "This is a fantastic thing for the trust to be able to do as it supports our staff to make healthier choices when deciding how they travel between our sites, as well as helping to ease some of the congestion around the city.
"It is also a great example of different agencies coming together to promote sustainable travel options around the city and we are working with the county council to look at how we can further expand the scheme to our health centre site in Jericho."
People who want to use the bikes can sign up online quickly and are given a membership number and PIN, which are used to take bikes from the docks. The scheme will cost £1 to join, with the first 30 minutes of use free to encourage use for short journeys, with a sliding price scale for subsequent hire times.
Hannah Musson, health and wellbeing co-ordinator for OHFT added: "As a trust we are committed to promoting and creating health and wellbeing opportunities for staff.
"We understand that investment in our staff's wellbeing is not an optional extra, but a necessity and we regularly engage with our staff and take on-board their feedback to help us tailor initiatives to meet their needs.
"To promote the scheme to our staff, we produced a short video that shows the benefits of using bikes over cars to commute between our city sites and features a friendly race from the Warneford Hospital to our offices at Chancellor Court on the business park."
Professor John Geddes, head of the Department of Psychiatry, University of Oxford, said: "The department is delighted to see the expansion of Oxonbike to Warneford Hospital.
"We are committed to developing sustainable travel and this will help our staff greatly alongside our own electric bike programme."
For a full breakdown and general information on the scheme visit www.oxonbikes.co.uk
Photo caption: (L-R) Oliver Shipp, programme manager for OHFT; Edward Wigzell, travel officer for University of Oxford; Hannah Musson, staff health and wellbeing co-ordinator for OHFT, Stuart Bell CBE, chief executive of OHFT; Adam Bows, sustainable transport manager for University of Oxford; David Early, transport planner for Oxfordshire County Council; Prof. John Geddes, head of the Department of Psychiatry at University of Oxford and director of research and development at OHFT.