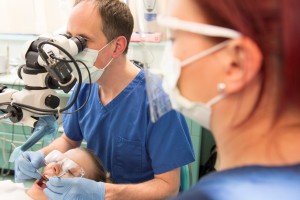 The high standard of dental services provided by Oxford Health NHS Foundation Trust has been recognised with a prestigious award by the British Dental Association (BDA).
The Oxfordshire Salaried Primary Dental Care Service (OSPCDS) has been awarded the Quality in Dental Service Award by the professional body for dentists in recognition of the high standards in treatment decisions, health and safety, infection control and a number of other requirements.
Rosalind Mitchell, clinical director of dental care services for the trust, said: "This award is important to the Oxfordshire Salaried Primary Care Dental Service as it provides national recognition that it meets the 'gold standard' in terms of quality assurance and is delivering the highest standard of dental services to patients.
"This award is particularly significant as it comes from the BDA, which is the professional association for dentists and has a proven track record of accreditation of dental practices and settings."
Dental services in Oxford Health NHS Foundation Trust are provided by the OSPCDS. This service provides NHS dentistry to a wide range of patients including both adults and children.
The main role of this service is to provide dental care to patients requiring either special care dentistry, or specialist care. In addition to this core role the service also provides emergency care for patients requiring urgent dental treatment who do not currently have a dentist of their own.
Within the service there are a number of specialists including oral surgery, paediatric, orthodontic and special care dentistry.
During its assessment the BDA carried out one-to-one interviews with staff about the service as well as thoroughly inspecting the equipment, infection control, etc., at each of the clinics. Many staff members were questioned and a number of policies and procedures were checked at each site.
Sarah Buckingham, a senior dentist within the service and who led on the co-ordination of the application for the award, said: "Our service won the Quality in Dental Services award because it met all the required standards of the ten domains and was able to demonstrate to the assessors not just a high standard of service but also that it is administered by fully trained and skilled staff in dental clinics that met the quality assurance standards of the award."
The assessment of the trust's dental services took place in November and was notified of the award on 21 December.
The BDA said: "Achieving this award is fantastic news for the service as it is now seen to be 'gold standard' which will put the dental service in a stronger position for future tenders and other external assessments such as the Care Quality Commission."
For more information on the dental services offered by Oxford Health NHS Foundation trust visit our website.