TV's Martin Lambert in the frame for charity art auction
A renowned auctioneer known to art enthusiasts, antique buffs and collectors alike for his work on TV and high profile events over more than 20 years will be asking bidders to dig deep for a worthy cause later this month.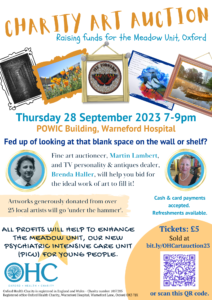 Martin Lambert – who works for respected fine art auctioneers Tayler and Fletcher – will be picking up the gavel at a special event to be held on 28th September, 2023 at 7:00pm at the POWIC Building, Warneford Hospital, Oxford. He will be joining Brenda Haller who is also well known as one of the dealers on the hit ITV show Dickinson's Real Deal as co-auctioneer.
You can book your place at the Oxford Health Charity auction by visiting this page. Tickets are just £5.
All the money raised at this Oxford Health Charity event will go towards Oxford Health NHS Foundation Trust's Meadow Unit – a new psychiatric intensive care unit (PICU) that will treat up to eight young people at one time.
Around 30 local artists have generously donated a range of beautiful works of art which will all be going under the hammer during the evening. They include stunning photographic prints and original watercolours, striking textile art and wood carvings. The artworks will have guide prices of between £30 to £300+.
Martin, who trained with Sotheby's of London and can be seen on ITV's Dickinson's Real Deal, aims to ensure that everyone has a great evening and that the charity receives a big boost.
Martin said: "It's really exciting to be asked to join the auction and take up the challenge of raising money for a very worthwhile cause.
"The idea of gathering together some really excellent local art is a good one as bidders will get a real connection with the works they are trying to win.
"I know it will be a fun evening and I won't rest until I have got the absolute best price for each piece. Whatever each artwork fetches it will be more than worth the price as all the money is going towards something that will be priceless in the good that it will do for patients."
The eight-bed psychiatric intensive care unit (PICU) at the Warneford Hospital has been built thanks to financial support from NHS England/Improvement and will enable young people experiencing the most acutely disturbed phase of a serious mental disorder to receive specialist help closer to home.
All proceeds from the evening will go towards enhancing the new facilities including:
a bespoke sensory room.
a garden gym room.
a calming outdoor area.
indoor and outdoor artworks.
To find out more and book your place at the auction visit this page.
We are sorry you did not find this page helpful
Tell us how we can improve this page
Published: 12 September 2023