Oxford Health welcomed Dr Emily Lawson, the NHS senior responsible officer for the Vaccine Programme to our centre at the Madejski Stadium in Reading on March 19.
She was there to see how the centre has been set up to play an important role in the vaccination programme and to meet some of the staff who are inoculating approximately one person every three minutes against Covid-19.
Meeting her was Oxford Health's Covid Operations Director Tehmeena Ajmal, Chief Nurse Marie Crofts, and clinical operations lead John Fletcher.
Emily spent more than an hour chatting with staff and noting the strong team ethic and can-do attitude from all the team. She was impressed with the layout and how the centre has been expertly adapted as the vaccination programme ramped up to maximise patient care and volumes of vaccinations.
She listened with interest to how the centre would have capacity to vaccinate 3,500 eligible people a day with the Oxford vaccine and saw how the public are booked in and have health checks before having their dose expertly administered.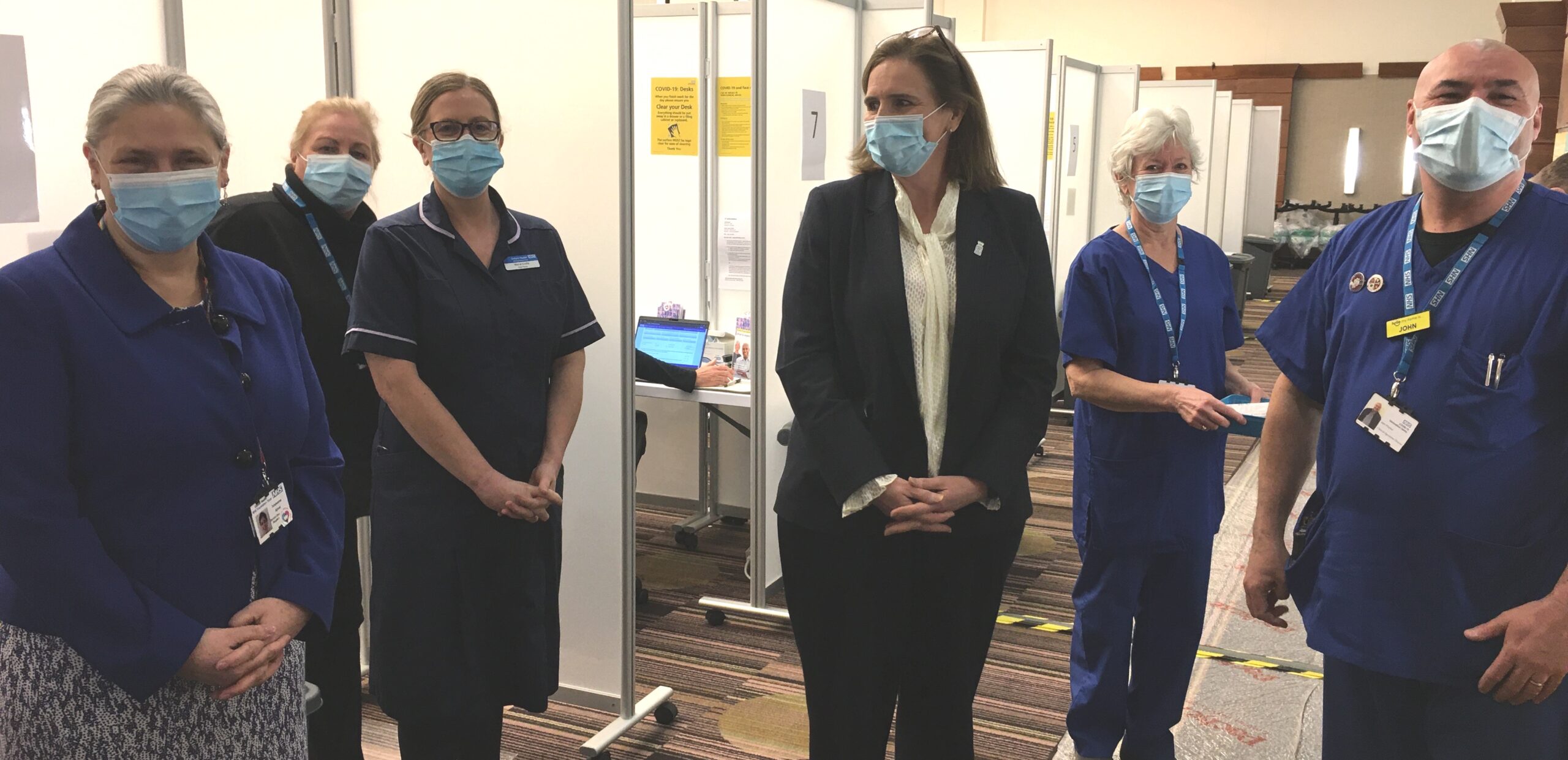 Emily joined NHS England in November 2017 as National Director for Transformation and Corporate Development.
A molecular geneticist by background, she recently led a number of large-scale organisational transformations, most recently with Morrison's.
Before this, she worked with McKinsey for 14 years. Emily is also a steering committee member of the 30% Club, which aims to increase representation of women on UK plc boards, and to research and support greater diversity in the UK and global institutions.
Reflecting on the past year, Dr Lawson said: "I could not be prouder of all that we have achieved collectively over the past year, with many thousands of my colleagues who are women forming the driving force of the vaccination rollout.
"Being a part of the biggest vaccination drive in NHS history has been the privilege of my career. It is an incredible team effort and as well as offering people huge hope in the pandemic it is saving people's lives."
Covid Operations Director Tehmeena Ajmal commented "I am so proud to be able to show our incredible vaccination centre and introduce the amazing team of staff to our national lead for the vaccination programme"
We are sorry you did not find this page helpful
Tell us how we can improve this page