We said: Please stay at home – You said: Thank you!
Our portraits have reached almost 120,000 people on social media
When the lockdown started, we started photographing our staff who had no choice but to carry on caring, with a simple plea: 'Please stay at home for me'.
And the public responded! Our portraits have reached almost 120,000 people on our Facebook and Twitter accounts, generating thousands of likes and loves and hundreds of comments tell that our message is getting through and our staff are hugely respected and appreciated:
"Stay home so Rosa stays safe. She deserves a medal for all her hard work. We love you Rosa."
"Huge thanks to all the staff at the Warneford, you're doing a great job x."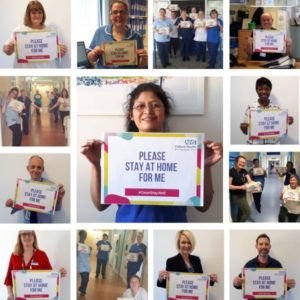 "I want to thank you for all you are doing. I wish I could stay at home but I'm a baker and I'm still working. May you all stay safe my best wishes Gary xxxx"
"Thank you all staff. We will keep up clapping to show our love and appreciation. Please all read the message that the staff are showing. Stay safe."
"Amazing people we'll done to you all. X"
"Amazing reception teams at both Warneford and Whiteleaf Receptions. Thank you all"
"Thank you Nurse Gee. You are all AWESOME xx"
Thank you to all staff who have 'modelled' for us so far! Apart from asking people to stay at home, our portraits show just how many different types of dedicated professionals it takes to keep our services going, safely and effectively: housekeepers, receptionists, doctors, nurses, health care assistants, therapists, administrators, directors and many, many more.
And thank you everyone who has liked, loved and shared our message. Your support means a world to everyone in the NHS. And above all: thank you for staying at home!
Our campaign is on-going and as valid today as it was when we started. Please keep following and supporting us on our channels Facebook, Twitter and Instagram.
We are sorry you did not find this page helpful
Tell us how we can improve this page