Resourcing officer Sarah Penaluna is Oxford Health's new Armed Forces Champion, and hearing about her background makes you think the role is tailormade for her – or maybe she for the role.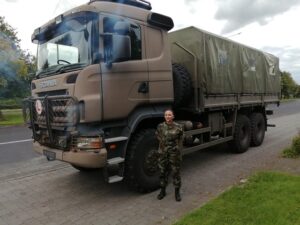 Coming from Ireland, Sarah is a serving soldier of over 16 years in the Irish Defence Force Reserves, currently with 1 Brigade Transport at the HQ Collins Barracks in Cork. Although now living in Bicester, she goes back to Ireland six to eight times a year plus for annual training to retain her connection with the forces. She has also spent six years in the Naval Service at Haulbowline Naval Base, Ireland.
Sarah, Masters educated in human resources, also has over ten years of civilian professional background in human resource management, specialising in career coaching and employability support in the sectors of higher education and the military. She was a lecturer and staff officer and had begun her PhD at the Limerick Technological University before it was time for her to take a career break last autumn.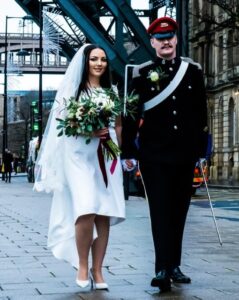 Namely, on the top of her military and HR experience, Sarah is also a military spouse. Her husband James, a communications specialist in the Royal Logistics Corps, was serving in the reserves and wanted to join the army full time.
"At that point I knew it was time for me to move with him and support him and I had the opportunity to take a career break," she explains.
Initially the couple thought they would be moving to Newcastle but then James was stationed to Bicester.
"And it is the best thing that could have happened: Look at where I am now! I work with an incredible team, they are truly fantastic people to work with, extremely supportive and dedicated and I feel very blessed to work with them every day and have had this opportunity" Sarah says, referring to her role at Oxford Health.
Over the autumn and winter Sarah was supporting James to transition into his fulltime role in the army, but also found herself entering an entirely new phase in life.
"When we got to Oxford in December, James was here for a week and then went away for two months. I was on my own in the house, I didn't have a job yet, I didn't know a single person and I could not meet up with anyone anyway because of the pandemic. It was hard. My transition was huge: to go from being a lecturer, staff officer and doing my PhD to nothing."
This experience, with all her professional experience can only help her as Oxford Health's Armed Forced Champion.
"I love recruitment, career coaching, mentoring and motivating others to find and realise their qualities, skills, strengths and attributes so that they will achieve all aspects of their career ambitions," she says.
"But I also love the military, it is who I am, it's my identity, I would never want to leave it. To be able to merge the two is just fantastic."
In her role Sarah will be supporting service leavers, reservists, veterans, Cadet Force Adult Volunteers, and the families of all of these on a path to a career in the NHS. Sarah says:
"In the military and how we are trained, we can adapt into a new environment very quickly; it's all about self-motivation and learning but equally being a great team member and supporting each other. These strengths and attributes will contribute extremely well in the context of the 350 roles there are in the NHS."

"The NHS has ample opportunities and I am very much looking forward to being the ambassador to service leaders, always providing up to date information, employability support, and even, emotional support. It is crucial regarding the importance for these fantastic people to realise that with the right support, the transition from military to the civilian life workplace doesn't need to be stressful and that we are here to support them every step of the way ."
She concludes:
"What I am most looking forward to is making that difference."
Step into Health
Oxford Health has a proud record of supporting those who have had careers in the RAF, Army and Royal Navy to find fulfilling careers with us and utilising their many transferable skills. And we are calling on any servicemen and women who are considering leaving the forces to join us through our Step into Health programme.
The Step into Health is a partnership between the NHS, Walking with the Wounded and The Royal Foundation – and helps service leavers, veterans and military family members to find new a new worthwhile career in the NHS.
If you would like to find out more about the Step into Health programme and how we support the armed forces community please contact our armed forces champion, Sarah Penaluna, by emailing Sarah.Penaluna@oxfordhealth.nhs.uk or calling 0791341494.
We are sorry you did not find this page helpful
Tell us how we can improve this page