Why we love nursing
To mark International Nurses Day, celebrated each year on the birthday of Florence Nightingale, Oxford Health spoke to three of its nurses about why they love nursing. To read their stories in full, please visit our Facebook page at https://www.facebook.com/pages/Oxford-Health-NHS-Foundation-Trust/187338294632033   "Nursing is the best job in the world" Penny Morgan has been a tissue ... Read more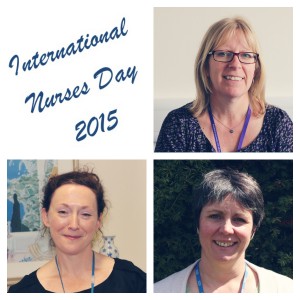 To mark International Nurses Day, celebrated each year on the birthday of Florence Nightingale, Oxford Health spoke to three of its nurses about why they love nursing.
To read their stories in full, please visit our Facebook page at https://www.facebook.com/pages/Oxford-Health-NHS-Foundation-Trust/187338294632033
"Nursing is the best job in the world"
Penny Morgan has been a tissue viability nurse with Oxford Health for the past year. Before that, she worked as a district nurse for 14 years.
The Tissue Viability Service provides specialist advice and support to Oxfordshire's healthcare professionals about managing complex wounds. The team provides expert wound care advice, specialist equipment and education across the county.
Penny said: "Nursing is the best job in the world because you get to meet people and can be alongside them at the most challenging times in their lives. And you get to do something to help them. That's a very special thing.
"It's never dull, it's really interesting, exciting and fulfilling, it stretches your brain and it's challenging. It can be frustrating but it's always fulfilling."
Nursing is an exciting profession to work in"
Alison Proudlove is the clinical lead and Falls Prevention Service manager for Oxford Health. She has been with the falls service since 2006 and prior to that, spent 13 years working within Oxfordshire in the community as a District Nurse.
The Oxfordshire Falls Prevention Service works to improve the health of local people by detecting and treating risk factors that might lead to falls in the older population. These can include medication, balance problems, illness and a variety of other factors.
Alison said: "To older people, a fall can have a massive impact on their confidence and their lives in general. Falling can result in injury and a decrease in mobility which can lead to increased dependence, isolation and depression. Falls also make care home admission more likely, we want to break that cycle.
When asked what the best thing about nursing was, Alison said: "The good thing about nursing is that there is such a variety of jobs to choose from once you have qualified, you can change your specialism as there and there is always something to learn. Nursing is diverse and never routine when you meet so many different people every day. Many jobs can offer a lot of flexibility so you can fit in having a family and work. We will always need nurses so job security is often good and it gives you perspective on life that other jobs don't give.
"It is hard work and you do need a lot of commitment, but I would definitely recommend it to anybody thinking about a career in nursing."
"You're able to make a difference to their lives"
Dot McConnell has worked as a community mental health nurse with Oxford Health NHS FT for 12 years and a qualified nurse for 30 years. She currently works in the adult mental health team for South Oxfordshire, based at Wallingford Community Hospital.
Dot trained as a nurse in 1981 and said the career path these days was somewhat different. She said: "The ethos and practice of nursing has changed dramatically, nursing is a lot more autonomous and there are a lot more specialisms. I joined nursing in 1981 and it was a bit like going to boarding school, the sister told you to do something and you did it. It's quite different now!"
Along with her team, Dot carries out a variety of roles. At least once a week, the nurses take it in turns to work as shift coordinators, taking and triaging referrals, handling workloads and dealing with incoming calls. Other days are taken up visiting people for assessments and follow-up appointments, or helping mentor new nurses at Oxford Brookes University.
Dot said: "The great thing about nursing is that it's so varied and you meet so many different people from all walks of life and that's really fantastic.
"There's never any time to get bored and there are always pathways you can take to learn more. The best bits are working with people through recovery, when people get better or you're able to make some kind of difference."