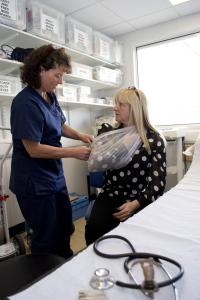 The Minor Injury Units in Witney and Abingdon are extending opening times during the peak winter period to support local people suffering a minor injury. This will reduce their need to travel to Oxford for urgent treatment and ease demand on the city's emergency departments.
MIUs can treat a broad range of injuries including: minor head injuries, sprains, broken bones and dislocations, minor burns, cuts, grazes and wounds, insect and animal bites, ear, nose and eye injuries, removal of foreign bodies and wound infections.
The MIUs will now open from 8am to 10.30pm daily until 28 February 2015 – an increase of two hours each day.
Witney and Abingdon Minor injury units are located at:
Abingdon Community Hospital, Marcham road, Abingdon, OX14 1AG, MIU telephone: 01865 903476.
Witney Community Hospital, Welch Way, Witney, OX28 6JJ, MIU telephone: 01865 903841