Thursday, September 10, is the World Suicide Prevention Day, inviting people and communities to work together to prevent suicide and raise awareness of suicide and suicide prevention. The very invitation of the day – to work together – aims to highlight that preventing suicide requires the efforts of many. 
This year's theme is all about connections – with family, friends or work colleagues. and through nature, art and self-care. We can all play a part, from reaching out to a friend, colleague or relative to lobbying governments. 
Nurse consultant Karen Lascelles, who leads on suicide prevention at Oxford Health NHS Foundation Trust, says: "The restrictions imposed as a result of the Covid-19 pandemic will have resulted in many people, particularly those who were already vulnerable, feeling alone or isolated. 
"We want to make sure we are reaching out to our service users, carers and staff to help improve mental wellbeing.  Making connections and engaging with other activities can be a lifeline for many people and knowing there is someone they can turn to or connect with can help to reduce suicidal thoughts."
A conversation about suicide
A conversation about suicide is a film in the series Short Films About Mental Health, made with young people who use mental health services at Oxford Health NHS Foundation Trust. In the film Sadie Rees interviews Karen Lascelles. Their frank and compassionate conversation can help all of us to have a conversation we may feel is difficult, but can show someone that we care.
Step closer
The International Association for Suicide Prevention (IASP) has released a short film, Step Closer, that conveys how joining together is critical for preventing suicide and how this could shift the balance and save lives.
The campaign emphasizes that  connections are now more important than ever. As we adapt to a world altered by COVID19, levels of isolation, distress and anxiety increase – but the need for physical distancing should not impact our connections. Connections with others are vital in ensuring all people's mental health and wellbeing.
A letter to my younger self
Two years ago, young people from the Oxford Health NHS Foundation Trust's Banes, Swindon and Wiltshire CAMHS Participation team co-produced a short film A letter to my younger self.
Produced by an award-winning video production company Suited and Booted Studios and funded through the Malik Bendjelloul Memorial Foundation and Into Film, the young people's work aims to encourage more boys and young men to open up about their mental health difficulties and reach out for support.
The film was initially launched in November 2018 at a reception at the Guildhall in Bath, but its message remains current. "The most powerful thing you can do is to ask for help," says one of the letters.
The film also contributes to a wider strategy, Boys in Mind, which aims to support the mental health of boys and young men in Bath & North East Somerset, Wiltshire and further afield. Participation lead Gill Welsh from Oxford Health NHS Foundation Trust said:
 "6000 people take their lives each year in the UK and Republic of Ireland. Each statistic represents a unique and wonderful human life cut short, a life that may have been saved if speaking openly about our vulnerabilities and struggles was recognised as a sign of strength and not weakness."
Show your support by lighting a candle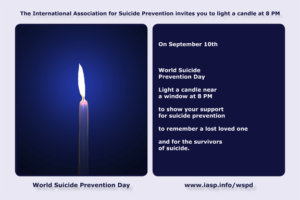 Light a candle near a window at 8 pm on Thursday, September 10, to show your support for suicide prevention, to remember a lost loved one, and for the survivors of suicide.
You can also send an e-postcard to friends and loved ones. IASP has cards available in 63 languages. Get yours here.
We are sorry you did not find this page helpful
Tell us how we can improve this page
Published: 10 September 2020