It was all smiles at East Oxford Primary School in Oxford as pupils were among the first to be vaccinated against the flu as part of a countywide planned vaccination programme.
Pregnant women are also being offered the vaccine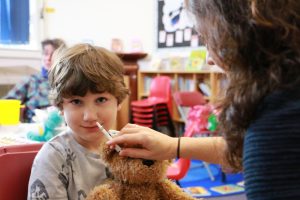 Francis Limehouse, six (pictured), and fellow pupils across Oxfordshire are receiving the flu vaccine via a harmless nasal spray.
Pupils in school years 1, 2 and 3 in Oxfordshire are being given the vaccine in school by Oxford Health NHS Foundation Trust's school nurse team to help prevent them becoming seriously unwell this winter. Flu is an unpleasant illness that can result in serious complications for some children.
Reception-aged children and those aged 2 to 5 will be offered the flu vaccine via their GP.
Anne Lancaster, School Health Nurse Team Lead for Oxford, said: "It's lovely to come into East Oxford Primary School and meet Francis and all the children, talk to them about their day and to be able to give them the vaccine."
"It's given via a nasal spray so it doesn't cause any pain."
"We visit each school and offer the vaccine to children class by class so they're with their friends and they each take it in turn."
"In just a few seconds they've gained the ability to fend off the winter flu which can be really unpleasant and usually means at least a week in bed and off school. In some cases it can lead to serious complications and an admission to hospital."
Dr Andrew Burnett, Urgent Care Lead at Oxfordshire Clinical Commissioning Group said: "With the nasal spray flu vaccine there are no needles. Instead, the vaccine is delivered through a single spray up each nostril. It is quick, painless and will mean that your child is less likely to become ill if they come into contact with the flu virus."
"Not only is it important to protect young children but also giving them the nasal vaccination will help to protect their families. Vaccinating young children also helps to protect other people who are vulnerable to flu, including young siblings, older people and those with long-term health conditions, because it reduces the chance of spreading the virus."
Parents will have been sent a consent letter from their child's school. Anyone who has not received or has lost their child's form can download one from the school nurse flu immunisation webpage.
The vaccinations will be given in schools during October, November and December in 2016.
Reception-aged children and those aged 2 to 5 will be offered the flu vaccine via their GP.
Find out more about our flu immunisation programme on our flu immunisation page.