Eight young people involved in Oxford Health services, the Oxford Playhouse and Magdalen College School came together to explore the experience of young adults in their performance of 'The Small Hours' by Katherine Soper, as a part of National Theatre Connection Week.
The play was one of ten commissioned by the National Theatre for the annual performance week and features a series of duologues looking at the passing of time, changing relationships and how the smallest decisions can affect the rest of our lives.
Oxford Health first became involved in the play late last year in a collaboration with Oxford Playhouse that saw the trust promoting the opportunity to the community. The Oxfordshire child and adolescent mental health services (CAMHS) team helped share the opportunity with young people and encouraged those with an interest in art to get involved.
Louis Headley, quality and participation lead for Oxfordshire CAMHS, said: "Creative activities can have such positive effects on a person's mental health and can support the development of relationships while helping people to grow in confidence.
"We are so pleased to have been able to support Oxford Playhouse with this performance and hope to be able to spread these kinds of creative opportunities in the future to community members who could truly benefit."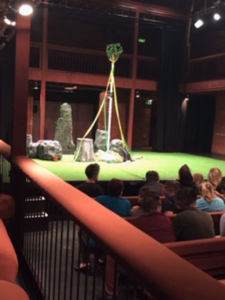 In Oxford the young cast had the unique opportunity to become fully immersed in the creative process and were encouraged to give personal input at every stage of the project.
Buster Van Der Geest, one of the young adults cast in the performance, said: "I really enjoyed the structure of this experience: I was a performer yet still had a chance to provide input on the set and choreography in each individual scene so that we all left our mark in the final performance."
Samson Hawkins, the play's director, said: "I thought that by finding young people who love theatre – some of them who have difficulty taking part in a typical theatre setting and some of whom have many opportunities – we may be able to find a new way to work together to tell a story."
'The Small Hours' was performed Sunday, May 12 at the North Wall Arts Centre in Oxford.
The Small Hours by Katherine Soper
"It's the middle of the night and Peebs and Epi are the only students left at school over half-term. At the end of their night out, former step-siblings Red and Jazz try to navigate their reunion. With only a couple of hours until morning, Jaffa tries to help Keesh finish an essay. As day breaks, Wolfie is getting up the courage to confess a secret to VJ at a party.
"Their choices are small yet momentous. The hours are small but feel very, very long. And when the night finally ends, the future is waiting – all of it." – National Theatre