About us
Oxford Health Arts Partnership (OHAP) is an innovative arts project at Oxford Health NHS Foundation Trust. It replaces all previous arts programmes such as Artscape and Creating with Care.
It is supported by Oxford Health Charity (Registered Charity No: 1057285) or through external grants, such as from the National Lottery Community Fund.
The team
The OHAP programme is delivered by two part-time members of staff alongside a team of freelance artists and volunteers.
Tom Cox, Arts Project Manager

Tom has been the Arts Project Manager at Oxford Health NHS Foundation Trust since 2012. He has worked in the NHS for nearly 20 years delivering arts projects at all the major hospitals in Oxfordshire. He is a visual artist but has experience working with all art forms.
Angela Conlan, Project lead/ Arts Co-ordinator

Angela has worked for the trust since 2017, initially delivering on the Creating with Care programme at Community Hospitals but has expanded her role as the partnership has strengthened. Angela is an expert in dance and movement and has a wealth of experience in community arts.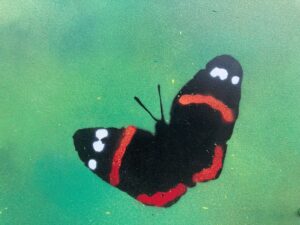 The importance of the arts in healthcare settings
The number of ways creativity can affect our health is constantly expanding and the evidence for the impact of the arts in healthcare settings has grown significantly over the last few years.
Nationally the NHS and social care are beginning to acknowledge the significant role that creativity can play in promoting our health and wellbeing.
What do we do?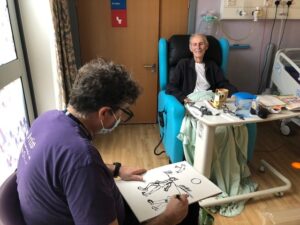 The theme of our Vision 2021 – 2026 is, 'Inspiring recovery, wellbeing and growth through creativity.'
Key objectives:
Grow: Develop OHAP through collaboration, co-production and partnerships
Research: Actively engage and lead on research to demonstrate the impact of arts on health
Understand: Raise awareness of the benefits of arts interventions in healthcare settings
Production: To contribute to the recovery and experience of service users/ patients/clients and the health and wellbeing of those in contact with Trust services.
Inspire: To innovate and inspire creativity within healthcare
Annual Reports
Click here for the Oxford Health Arts Partnership Annual Report 2022
What difference does it make?
Feedback shows that people who engaged with an arts project had a 48 per cent increase in mood.
Here is some feedback from projects:
"Tom's visits make me feel happy, I look at the drawings all week and they help me remember."
"It's marvellous. It opens your eyes to something new, it's a stimulant, he teaches about colour, it's so positive."
Feedback from staff:
"Our patients have loved this project as they like the engagement.  Staff are so busy, but we love to see them participating and that they can revisit their memories."
"[The artwork] helps when they have visitors, it's a real conversation starter and gives them something to talk about. Some give the drawings to their relatives as a gift.
We are sorry you did not find this page helpful
Tell us how we can improve this page
Page last reviewed: 6 March, 2023