Improvement Scholars Programme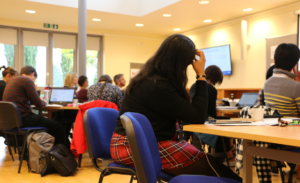 The team at OHI delivers a one-year Improvement Scholars Programme that enables participants to take an intensive programme to learn about quality improvement and to lead an improvement project in a chosen field of work in clinical and service settings. The Improvement Scholars Programme is designed to support participants to become leaders of quality improvement in their field of work so that they feel equipped to develop projects, provide training and coaching to others, and to continue their relationship with the team at OHI for the benefit of future scholars.
Leadership Development Programme
The OHI team provides teaching on Quality Improvement to the Trust Leadership Development Programme. The aim of the programme is to strengthen leadership capability in the organisation to help ensure teams deliver high quality patient care to the satisfaction of service users. Each participant designs a project in their area of work using a systematic approach to design, implementation and evaluation. The project forms the basis for reflection on the participants' development as leaders, learning how to approach quality improvement projects, and wider insights developed over the duration of the programme.
Upcoming Seminars
Further details of the seminars and speakers will be available nearer the time.
The seminars run from 4pm until 5pm with refreshments available from 3:30pm.
If you would like to book a place on any of these seminars please email: oxfordhealthcareimprovement@oxfordhealth.nhs.uk

Past Seminars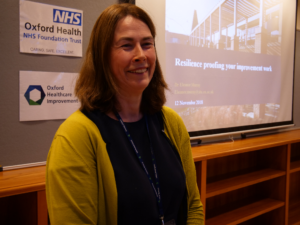 Wednesday 18 July 2018: Journey to safer healthcare with Professor Charles Vincent M Phil, PhD, Professor of Psychology, University of Oxford.
Monday 12 November 2018: Organisational and Individual Resilience with Eleanor Murray (left), Fellow in Management Practice, Saïd Business School.
Monday 17 December 2018: Can a national programme improve local patient safety? – the evolution and progress of Patient Safety Collaboratives with Katharine Edwards, Head of Patient Safety Oxford AHSN.
Monday 21 January 2019: Assessing Outcomes of Health & Social Care with Raymond Fitzpatrick, Professor of Public Health and Primary Care, University of Oxford and Dr Caroline Potter, Research Officer, University of Oxford.
Last updated: 22 January, 2019