Reading Well books on prescription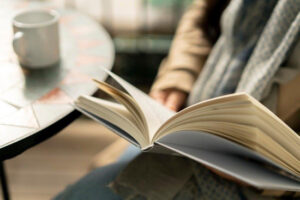 There are a range of self-help books which you can borrow from your local library for free. Reading these books can help you to better understand and manage your health and wellbeing. The books are recommended by the Reading Well Books on Prescription Scheme, approved by health professionals and supported by public libraries.
Oxfordshire library

If you wish to borrow a book, please visit your local library in Oxfordshire or you can look at their online book catalogue, which includes e-book availability.
Reading Well

There are currently four book lists available:

Reading Well Books on Prescription for common mental health conditions
Reading Well Books on Prescription for dementia
Reading Well for young people
Reading Well for long term conditions.
Computerised CBT websites and self-help
Get Self Help

Get Self Help is a website based on CBT techniques and information.  It has a wide range of downloadable worksheets, lots of information on a range of disorders such as anxiety, depression, eating disorders, self-esteem and anger.  It also has links to other useful websites.
LifeSIGNS

(Self-Injury Guidance & Network Support) is an online, user-lead voluntary organisation, founded in 2002 to raise awareness about self-injury and provide information and support to people of all ages affected by self-injury. We recognise self-injury is a way of coping with distressing experiences and difficult emotions, and we encourage people to reflect on the issues behind their self-injury, and to develop and explore alternative coping mechanisms.
Living Life to the Full

The 'Living Life to the Full' course is a life skills course that aims to provide access to high quality, practical and user-friendly training in practical approaches you can use in your own life. The course content teaches key knowledge in how to tackle and respond to issues/demands which we all meet in our everyday lives, with techniques specifically aimed at anxiety and depression.
Living with chronic pain

A psychologist working in pain management has made a Self-Help CD ("Living with Chronic Pain") – this is available to listen to or to download for free on his website.
Mind

Information which may be beneficial if you're living with a mental health problem, or supporting someone who is. There are a range of different areas covered helping you to access to the right information and to answer any questions you may have.
MoodGym

This is a free, interactive programme from Australia which provides an evidence-based anonymous, interactive online facility for practicing strategies for tackling depression.  The online exercises are based on CBT and workbooks are anonymous and can be completed at your own pace.
NHS Inform

NHS Inform is designed to offer information and advice to anyone experiencing mental health difficulties. From the site you are able to print off various Self-Help guides covering conditions such as depression, anxiety, stress, panic, and sleep problems.
Positive coping with health conditions

A free, downloadable self-care workbook for better self-management of Long Term Conditions with a relaxation MP3 file too.
No More Panic

No More Panic provides information for suffers and carers of people with Panic, Anxiety, Phobias and OCD.  It aims to provide information, support and advice.  There is information on the website alongside a chat forum.
Reconnect2Life

A free online, user friendly Self-Help guide to living with and managing chronic pain. Reconnect2Life is an interactive programme to help you look at your pain and how it affects you. It consists of a number of different modules which you can work through and complete.
Self-help leaflets

Northumberland, Tyne and Wear NHS Foundation Trust have produced a number of useful Self-Help leaflets, which provide advice on ways to cope with a range of common difficulties. Click on the link to browse or download any of these leaflets from their website for free. These Self-Help booklets have been written by clinical psychologists with contributions from service users and healthcare staff. We hope they will be helpful to you but if your problem does not improve please make sure to seek further help.
Turn2us

A useful website which focuses on benefits and to check eligibility for benefits and grants. People put in the details and it shows what they are entitled to and offer a telephone service as well.
Mobile apps
Whilst the majority of the apps listed below are free to download, if you are using any apps, please check any costs involved and also compatibility to your device.
These apps are listed for your information only and we cannot be held responsible for any problems or defects. Whilst we do our best to ensure the links are current things can change. If a link does not work please do let us know.
Behavioural experiments

CBT – £2.99 – Clear explanation of rationale behind behavioural experiments in the 'about' section and prompts on screen to complete negative predictions prior to an experiment and then what you have taken following an experiment. Stores all previous experiments so you can review them.
Calm

You'll discover how simple meditation really is, and how taking a few moments out of your day can make you happier and healthier.

Available for iPhone and Android
Five ways to wellbeing

To reflect on wellbeing, set activities to help improve your wellbeing and track progress.

Available for iPhone and Android
Happy healthy

To reveal what impact your lifestyle, exercise, nutrition and sleep have on your mental wellbeing and be coached to make healthier choices.
Headspace

Spearheaded by meditation teacher Andy Puddicombe. This slickly designed app provides ten-minute meditation sessions, with the first ten days available free of charge. If you have never tried meditation, Andy's easy banter and relatable instruction will make the practice more accessible. You might find that it takes you more than ten days to get through the first ten practices.

Available for iPhone, Android and Amazon
Insight timer

A meditation timer that doubles as a mindfulness guide. Users can share their meditation times with their friends and check in on others users meditating in the area.

Available for iPhone and Android
iWorry

Free or £2.29 – Provides a way of scheduling worry time on your phone. Then has an alarm which will go off to prompt worry time. It is quite accessible and works through the process in a very similar way to how worry time is delivered on courses. Allows you to look back at previous worries.
Mindfulness daily

Free – Asks a number of questions at the start around what you wish to gain from the app and then provides a daily mindfulness task and 3 reminders on your phone to 'pause' throughout the day. Works through a range of mindfulness tasks and then encourages ways to include the technique in daily life.
Mindfulness training app

By setting reminders at times and days of your choice you can get a message when it's time to meditate.
NTW

Free – Northumberland, Tyne & Wear provide a free app which has all of their Self-Help guides available so you can access these on your phone. Each self help guide is accessible as a written resource and there are brief video introductions for which leaflet might be suitable. They should also be available in audio file although when I've tried to use it that hasn't worked. You can access their audio files online. May be helpful in signposting someone to information after an assessment whilst waiting for further sessions.

Available for iPhone and Android
Relax melodies

Relaxation sounds and music to help you sleep.

Available for iPhone, Android and Windows
SAM

A Self-Help app for anxiety management, to learn to manage anxiety.

Available for iPhone and Android
Stay alive

Suicide prevention app for people with thoughts of suicide and to people concerned about someone else.

Available for iPhone and Android
Stop, Breathe & Think

Stop, Breathe & Think offers a solid sampling of the basics of meditation, featuring a range of exercises at varying lengths (mindfulness meditation, loving-kindness meditation, the body scan practice), ideal for short practices at work and longer sessions at home.

Available for iPhone and Android
T2 mood tracker

This allows you to monitor and track your emotional health. The app records a range of emotions for anxiety, depression, stress, post-traumatic stress and your general well-being.

Available for iPhone and Android
Page last reviewed: 24 April, 2023