Story telling
What is story telling?
Story telling gives individuals the opportunity to re-live the events that they have experienced and tell others about it.
In some groups, it may be more appropriate for stories to be told by a support worker, or a group leader; and everyone can have a story partner sitting beside them to help with passing the items around and participating in the story.
Stories are designed to include all or some of the following: Call and response | Lots of intonation | Sensory items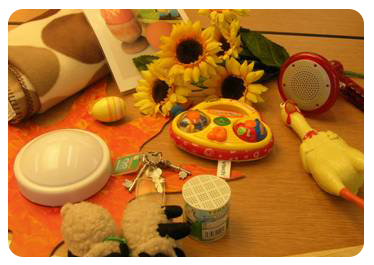 Items used in the Sheep Story


Where is story telling used?
In group settings, often in community centres or day centres.
Why is story telling useful?
Story telling encourages:
Turn taking | Sharing | Listening skills | Expression of emotions and feelings | Individuals to feel valued | Self esteem | Memory skills
Stories can be adapted to meet the needs of an individual. An example of a short story designed for people with multiple learning disabilities used in Redlands Day Centre is as follows:
Where are Lizzie's glasses? We don't know. Are they on the shelf? No. Whose are these? Lizzie's!
Where can I find about more about story telling?
Contact Bag books who sell the hugely popular multi-sensory stories "in a bag". They have age-appropriate material for both adults and children. www.bagbooks.org
Have a look at some multi-sensory stories people in Oxfordshire have made and download them from our Resource and Ideas Bank
We are sorry you did not find this page helpful
Tell us how we can improve this page
Page last reviewed: 14 August, 2017