Updates
Work to build a specialist CAMHS psychiatric intensive care unit (PICU) at Oxford Health's Warneford Hospital continues to progress.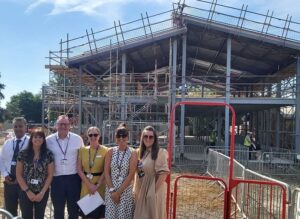 Members of the PICU programme board and OHFT Executive team met on site to get a close-up look at progress. Steelwork for the main structure, which will disappear from view when the walls are built is now in place and the roof has also been installed.
When complete, the eight-bed facility will enable young people experiencing the most acutely disturbed phase of a serious mental disorder to receive specialist help closer to home.  The facility and its dedicated team will provide inpatient mental health care, assessment and comprehensive treatments for young people as part of the Thames Valley CAMHS Provider Collaborative – which is led by Oxford Health.
We are sorry you did not find this page helpful
Tell us how we can improve this page
Page last reviewed: 30 August, 2022