Work at the PICU
Meet Tom – the PICU's new ward manager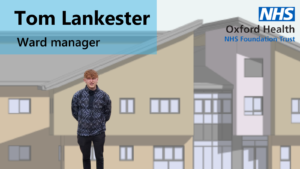 Oxford Health's new PICU represents a whole range of new positive opportunities for patients, families and professionals.
One person who has grabbed the chance to be part of the new PICU team is Tom Lankester.
Read on...

Tom started work with Oxford Health aged 18 and has worked hard gaining qualifications and making progress in his career. As a recent winner of a DAISY award, he has already proved himself as someone who goes above and beyond to give great care to patients.

He is already in his ninth year with Oxford Health and is currently a charge nurse at the Trust's Highfield adolescent inpatient unit.

However when the doors of the PICU open he will be the facility's new Ward Manager.

Tom explained: "My first job after school was as a healthcare assistant. I have always wanted to help people and took inspiration from my mum who is also a nurse.

"I was really interested in Ward Manager role as it is an opportunity to build service from ground up, play a part in developing the treatment model and getting involved with research.

"Working at the Highfield Unit has been a great experience – it's a really supportive environment and it's down to my boss Sarah Firth and other colleagues that I am where I am

"There is a real culture of development here. I studied at Kings College in London for three years and had opportunities to remain in London and work there, but I knew returning to the Trust to work at the Highfield was the right thing."

"I'm really excited about the new job. Being a ward manager carries a lot of responsibility – the role is about making staff feel safe to do their job well."
"A great opportunity to be in at the beginning" – Simon Cornwell, family therapist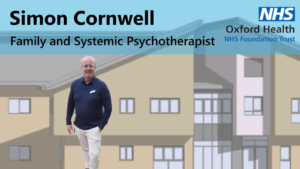 Simon Cornwell is a family therapist who will be working the new PICU.
His role involves meeting with young people and their family to help them to think about how they be part of making changes for the improvement of the young person's mental health.
He started his working life in the construction industry after leaving school and did that for more than a decade before the idea of a career change took hold.
He explains: "I really wanted to help young people who were disadvantaged and struggling in life – and so started out in youth work and then moved into social work with young people in care of the local authority, at a time when their mental health needs were not well understood.
"The family therapist role is something that I am currently doing with Oxford Health on the ward at the Highfield, where I have worked since last year. I have worked with young people for 30 years, and as a family therapist for around 15 years.
"Before coming to the Highfield I worked in the adult eating disorder service and other adult mental health teams in Oxford Health. Prior to that I was a clinical manager for a national service at the Maudsley Hospital implementing evidence-based interventions for children in care throughout England.  I have also worked in CAMHS settings and in specialist treatment teams in a local authority.
"To anyone thinking of applying to work at the PICU, I would say that it's a great opportunity to be in at the beginning helping to build the service. You will be working with a small number of young people when they are at a particularly acute and important time in their mental health recovery.
"If you seek an interesting and stimulating role, as part of a team working closely together then the PICU may be an ideal opportunity."
We are sorry you did not find this page helpful
Tell us how we can improve this page
Page last reviewed: 2 November, 2023