TalkingSpace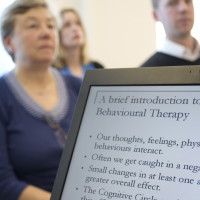 TalkingSpace offers a range of therapies that have been approved by the National Institute for Health and Clinical Excellence (NICE) for the treatment of common problems such as depression and anxiety.
We follow a stepped-care approach, which means we aim to offer you the treatment that best suits you and is least demanding for you to complete.
This service is available for people registered with a GP in Oxfordshire. Please visit the TalkingSpace website to find out more.
Adult services
Last updated: 16 August, 2017