Wantage Community Hospital
What we do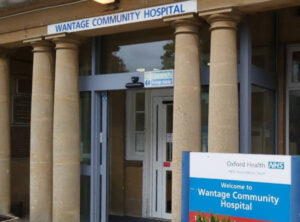 Wantage Community Hospital is home to a range of community-based services.
These include children's physiotherapy clinics and assessments for children aged 0 to 5 years who been referred because of speech, language and communication delays and disorders, Ophthalmology  clinics, a Midwife Led Unit, Perinatal, Adult Eating Disorders, Talking Space, Psychological Therapies, Neuro Development Clinic, Audiology Clinic, Podiatry Clinic, Health Share Physiotherapy Clinic, Speech and Language Therapies.
Other services
The hospital also has a Midwife Led Unit (MLU)  provided by Oxford University Hospitals NHS Trust.
Musculoskeletal (MSK) physiotherapy services are expected to return to the hospital and will be delivered by Healthshare Oxfordshire.
---
Useful information
Address
Garston Lane
Wantage
Oxfordshire
OX12 7AS
You can view the location of the hospital on Google maps here.
We are open from 8.30am until 5.30pm, Monday to Friday.
Getting here
Parking spaces are very limited at the hospital and we would encourage you to use public transport or other means of getting to the hospital.  Free parking is available near the market place, with a short walk (10 minutes uphill) to the hospital.
If you chose to drive, there is a parking machine on site to pay for the parking, which requires cash.
There are bicycle racks available just to the right of the main reception, if you chose to cycle.
We are very fortunate to be located on a main road (A417) and buses are available – X32, S8, X36, 34, 38
What to bring
When you arrive at the hospital, please enter the building via the main entrance and introduce yourself to our receptionist.  You will then be booked into your appointment and directed to the waiting room or directly to the consulting room.
If you have the appointment letter, it would be helpful to bring this with you to help with booking in.
---
Latest news

We are sorry you did not find this page helpful
Tell us how we can improve this page
Page last reviewed: 9 December, 2022