About Whiteleaf
The Whiteleaf Centre opened its doors to patients in February 2014. It is a purpose-built facility for the treatment of people with mental health problems.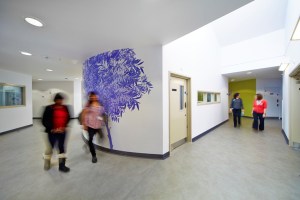 With its neighbouring Trust facilities the Sue Nichols Centre and Woodlands, it forms the Buckinghamshire Health and Wellbeing Campus.
The Whiteleaf brings together patient care for adults and older adults. There are four wards, a day hospital, many consulting rooms for outpatients and individual and group therapy sessions, a resource centre and facilities for staff and visitors.
The Whiteleaf has been built to a high specification for patient safety and dignity. It is a pleasant environment, with artwork incorporated into the design throughout.
Who to go to for help
Call the Oxfordshire and Buckinghamshire Mental Health Helpline if you need help with a mental health problem. This number replaces 111 for mental health advice in Oxfordshire and Buckinghamshire.
For adults and older adults call 01865 904 997
For children and young people call 01865 904 998
In Swindon, Wiltshire and Banes call 111.
For further information about accessing health services, please check here.
If you are already registered with our services, and do not know how to contact the team co-ordinating your care, please call the Whiteleaf Reception on 01865 902000, or the Trust main switchboard 01865 901000.
We are sorry you did not find this page helpful
Tell us how we can improve this page
Page last reviewed: 8 April, 2020