Older people's mental health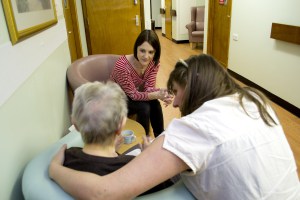 In our older people's mental health services we care for people aged over 65 with functional mental illness, and for people with dementia, regardless of age.
At the Whiteleaf Centre, we have one specialist inpatient ward for older adults, and community services.
Working with local health and social care services, we aim to provide effective support to patients and carers in their own homes and in the community, to avoid unnecessary admission to hospital.
If you do need to stay at the Whiteleaf in our inpatient ward, our aim will be to provide treatment that helps you to maintain independence and focusses on timely return home from hospital.
Our services work on a social inclusion model and provide a range of therapeutic groups both in the community and in local day centres. Our teams offer a range of group activities, such as memory strategy groups, wellbeing groups, coping with depression, and art groups.
Our range of services includes:
Assessment
Individual and group therapy
In-reach into statutory and voluntary sector day centres to promote social inclusion of people suffering from mental illness
Memory clinics
These services are managed by the Trust's Older People's Directorate.
Amber Ward
Amber Ward at The Whiteleaf Centre is for older people with mental health needs.
Amber Ward is a 20-bed unit, with a dining room, sitting rooms, and treatment rooms. All bedrooms are single rooms and have ensuite facilities, designed to meet the highest standards of privacy, dignity and patient safety. Therefore we aim to provide the highest standard of care possible through this purpose built modern hospital. This modern facility is an important catalyst for the delivery of updated and more effective ways of working with our patient group. This new building facilitates 21st century care and allows for many benefits such as utilising up-to-date equipment, appropriate spaces to ensure patients' comfort while promoting timely and successful recovery for our patients.
The wards provide assessment and offer a multi-disciplinary approach to the provision of patient care. Support and advice is also available to carers and relatives.
We have protected mealtimes. During this time no visitors are allowed on the wards.
Currently our visiting times are  – Monday to Friday 14:30 to 17:00 and 18:30 to 20:00hrs
And anytime outside mealtimes at the weekend.
There are three other wards at the Whiteleaf (Sapphire, Ruby and Opal) which are for adults of working age.
Community mental health services
The community mental health team, working with health and social care colleagues, supports the assessment and treatment for patients in a variety of settings including the patient's own home, care homes, GP surgeries and at the Whiteleaf Centre itself.
If you require support to access day activities, the older people's mental health team provides you with a care plan which addresses your individual day activity needs and supports you to be able to access local resources.   The service works in partnership with local communities and providers of day care, offering specialist advice and support to enable people with mental health problems to access local community activities.
The care of older people with functional mental illness and dementia who are in crisis will be managed 'in hours' by the Older Adult Mental Health Team extended hours service and out-of-hours by the on-call older-adult psychiatrist, with support from the mental health Night Assessment Team.
We are sorry you did not find this page helpful
Tell us how we can improve this page
Page last reviewed: 14 August, 2017