Lorna's back in control, not the anorexia that plagued her life
Lorna is recovering from anorexia, a severe eating disorder that affects 1.6 million people in the UK and is one of the most challenging conditions to treat and recover from.
It's National Eating Disorder Awareness Week – and every day we will be sharing inspirational stories from patients and carers
Lorna Collins can't disguise her new-found zest for life and ambitions for the future.
"I don't want to just survive. I want to thrive," she beams, eyes shining with excitement as she cuddles her up to her trusty companion Foxy and takes a break from creating her latest colourful piece of art.
Lorna is recovering from anorexia, a severe eating disorder that affects 1.6 million people in the UK and is one of the most challenging conditions to treat and recover from.
The former university lecturer puts her recovery down to the 'extraordinary' help and care she received at Cotswold House, the award winning Oxford Health NHS Foundation Trust unit at the Warneford Hospital in Headington, which is celebrating its 25th anniversary this year.
Now Lorna wants to tell the world about her remarkable comeback, the treatment she has received and for her story to serve as an inspiration to others fighting the illness during National Eating Disorder Awareness Week (Feb 25).
She's been out of hospital for more than a year – a record for her. She is now at a normal BMI of 22. At her lowest weight she was at serious risk of organ failure. She now has coping mechanisms, support, art, her animals and a range of new skills.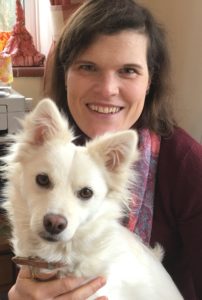 She's the first to admit it has been a rocky journey with some crises along the way. But she is living life, writing a book, discovering food and has even been for a McDonald's – something that she could never have contemplated a few months ago.
Lorna's life changed in an instant when she suffered a fall from a horse at the age of 18. Unconscious, and not breathing, everyone thought she was dead. She would have been, but her dad brought her back from the brink.
The catastrophic brain injuries from the fall left her in a coma and when she woke all her memories had gone. Not only that, her head trauma triggered a range of psychiatric conditions.
"I had no recollection of my entire life. I had to start again from nothing. I was like an artist with a blank canvas," recalled Lorna, who had been an international equestrian competing in the European Championships aged 16 and was 10th best in Europe.
"I had psychosis, depression personality disorder, schizo-defective disorder. Every doctor would call it something different. And I also had anorexia."
"Anorexia was about control; trying to control what I ate, trying to control the size of my body, control parts of my life."
Lorna was ill for 18 years with anorexia, in and out of hospitals and in treatment programmes across England and in France. Sometimes she wasn't considered ill enough or thin enough to go into an eating disorder unit, so was sent to a general psychiatric ward until she became thin enough.
She completed a PhD at Cambridge and became a lecturer there and in Paris, but anorexia was always with her. "Anorexia is physical and mental because when your body goes below a BMI of 17.5 your brain cannot function properly," Lorna explains.
"You think and see things differently about the world. I saw myself as someone who was completely obese. It wasn't as though I was thinking 'oh look how fat I am, how awful', it was 'I cannot bear to live inside this body'.
"The only way I thought I could deal with that was to restrict the food and to lose weight so there would be less of me. I thought if I could be smaller person that would be a good thing. There'd be less Lorna."
She recalls at her lowest point she was less than half her current body weight.
"I could not walk, I could not move. I had to be tube fed and I would try, with all the strength I could muster, to pull the tube out of my nose. It took three nurses to hold me down because the last remaining shreds of energy and life I had in me made me aggressive against myself and against anyone who tried to force me into being alive.
"That's about as bad as it got."
Cotswold House – an extraordinary place
Lorna relapsed in 2017. She was referred to Oxford Health and was seen by Dr Agnes Ayton, consultant psychiatrist at Cotswold House, who she says 'redefined my idea of normal and helped me get to a normal weight'.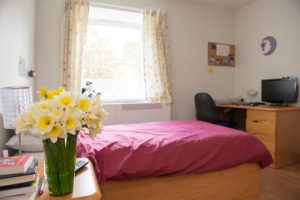 "For the first time it wasn't about whether I was thin enough to get in. They were worried about my self-harm and some of my co-morbid habits, but they wanted to help me," Lorna recalls.
"What made Cotswold House so different to other wards is that it has a holistic approach to treatment. I learned what it means to get well and how to get there. My treatment was extraordinary. They looked at the original brain damage that started everything off.
"They looked at the different symptoms that had emerged as a result of that damage; they looked at medications, my food plan, my meal diary. They looked at body image and the dysmorphic problems I had."
Lorna says she had a 'brilliant psychologist' David Viljoen and together they made a document called The Formulation.
"It was a piece of research on my illness.  I had completed my PhD in French Philosophy so was very interested in research and David told me to be interested in my illness.
"He would give me homework so that I could think about a symptom or behaviour; understanding what feeds it, what sustains it, why is it there? And then he asked me to think of some coping mechanisms and strategies to help me move forward in a new way. So that was a real revolution for me.
"It made my recovery mine. It wasn't pushed upon me. It was a way of finding a way or living which I could make and call my very own."
The road to recovery
Admission as an inpatient at Cotswold House often means a prolonged stay. For Lorna she was gradually allowed to spend the odd night to be with her dog and see her horse Patch back on the family farm. Stays away were built up so that her transition from inpatient to outpatient was seamless.
"What I've been so grateful for this time is having Oxford Health's support available in the community. I have two teams – an eating disorder team and an adult mental health team. I am still in treatment even though I've been discharged for a year. It's being phased out because I'm doing so well. But having someone to talk to about what's going on and expanding coping mechanisms even further has been crucial in my recovery."
Food – a new relationship
"I've learned lots of new skills about food preparation and 'danger foods' like chips and chocolate. Recently I went to a McDonald's Drive-thru on the way back from an interview. I couldn't quite believe it and wondered how I managed to do it. But it was Cotswold House that enabled me to do such a very normal thing.
"I listen to my natural tastes more and I am enjoying different foods, not worrying about quantities and weighing things. I'm much more natural about what I eat and how I eat it and who I eat it with. I can now eat with other people and enjoy it, especially when I'm with my family.
"I still need to learn to do so much such as having a takeaway, having a pizza or fish and chips. I want to try those things out because previously I wasn't able to. I think I can do it now and I'm looking for opportunities.
The future
"I'm quite excited about the future. I am writing a book about my recovery, which I find very therapeutic. I don't want to just survive, I want to thrive. That's my aim. I don't want a life going from one hospital to another which is what has happened over the past 18 years. I want to break free from that cycle.
"I've been out of hospital for a year now and that is a record. I'm proud of myself. There are things I want to do. I want to revive my work as a university lecturer. I want to write more books, keep painting, have fun with Patch and Foxy. I want to be well. "
See more of Lorna's story and others on BBC 1's Inside Out programme on Monday, February 25 at 7.30pm.
Published: 25 February 2019