Help us pull together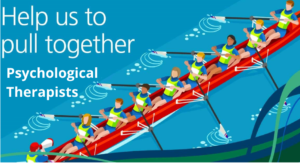 NHS Oxfordshire Talking Therapies is a service in Oxfordshire delivering cognitive behavioural therapy (CBT) and other evidence-based psychological interventions, through a stepped care treatment model to people in the community with common mental health problems.
To support our continued expansion, we have been developing pathways in working with patients with anxiety and/or depression and living with long term physical health conditions such as Cardiac disease. We also offer employment support services.
NHS Oxfordshire Talking Therapies continues to develop and build on its excellent reputation of delivering high quality NICE recommended treatment.
Featured roles
Latest opportunities
Counsellor training:
NHS Oxfordshire Talking Therapies is pleased to be part of an exciting new national project training psychotherapeutic counsellors to work within the NHS Talking Therapies services.
In Oxfordshire, the counselling trainee will be hosted by Principal Medical Ltd, an organisation working with NHS Oxfordshire Talking Therapies. This is a three-year funded, salaried trainee role working within the service and being trained by Metanoia; it will involve learning to practice the Person-Centred Experiential Counselling for Depression approach, one of the counselling approaches approved by NHS Talking Therapies nationally.
If you have a recognised Level 2 Counselling qualification, an undergraduate degree and are keen to train as a counsellor, please see further details.
Job adverts:
Team Administrator vacancy – find out more here
Trust wide vacancies can be found here
Non-urgent advice:

Learn more
To find out more information about any of our roles, and to submit an application, please visit our careers website:
Page last reviewed: 15 September, 2023