Due to COVID-19 our appointments and clinics have been amended. Please contact the practice for further information. For further information on updates with Covid-19 please visit our dedicated page – Covid-19 Info
Please see the attached leaflet for patients with suspected Coronavirus who have not been admitted into hospital and will be isolating at home – Suspected Coronavirus important information Leaflet
Luther Street Medical Centre is an award-winning GP surgery providing healthcare to people experiencing homelessness in Oxford City.
We opened in 1985, initially operating from a Portakabin. Charitable donations allowed us to move into the current purpose-built building in 1998 which was further extended in 2005.
The service was absorbed fully into the NHS in 2001. Since 2013, we have been part of Oxford Health NHS Foundation Trust and a national centre of excellence in providing healthcare to patients experiencing homelessness.
You can watch a video about the history of the service below.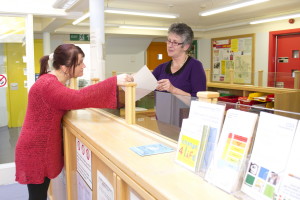 Patients can register from Monday to Friday (between 9.00 am and 10.30 am) if they are:
And meet any of the following criteria:
Rough Sleeping in Oxford
Housed in homeless hostels or rehabilitation facilities
'Sofa Surfing' or otherwise vulnerably housed
If you do not meet the above criteria but believe that you should be able to register with us, please call the practice and we can discuss this with you.
Registration forms will be provided when you visit the practice.  If you need assistance filling in the forms, we would be happy to help.  Just speak to a member of the reception team when you arrive.
Patients can stay registered until they are successfully maintaining their own accommodation after which we will usually discuss the right time to re-register back with a mainstream GP surgery. We can still offer some support even after re-registration.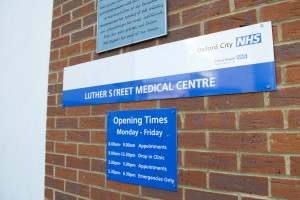 Monday to Friday
9 am – 10.30 am
Patients can register and will be offered a health check
9 am – 12.30 pm
Drop-in appointments for GPs and Practice Nurses
Mix of drop-in and booked appointments for other services (see services information)
2 pm – 5 pm
When the surgery is closed the out of hours service can be contacted on 111.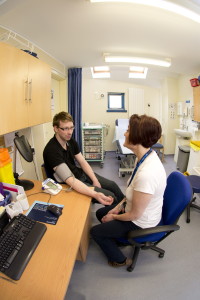 Reception
Our receptionists are the hub of Luther Street and the first people you will come into contact with when attending. They are here to help you access the services that you need.  They are also instrumental in helping to manage the environment so that it is a calm and safe environment for all of us.
GPs and Practice Nurses
Our Doctors and Nurses provide the full range of primary care services including acute and chronic disease management.  They provide a comprehensive contraception service and offer screening for Hepatitis B, C and HIV.  Our GP team has advanced skills in alcohol, drug, and gambling addiction and specialist experience in assessment and management of mental health issues.  Our Nursing team run the alcohol detoxification, smoking cessation, leg ulcer management service and can provide initial management of common foot problems. We also offer all patients a free course of Hepatitis B vaccinations and health checks upon registration.
Mental Health Practitioners
Our Mental Health Practitioner can provide initial assessment and, in many cases, initial psychological treatment for a range of mental health problems including depression, anxiety, emotional issues and severe mental illness.
Social Prescribers
Our Social Prescribers will spend time with you exploring what matters to you and identifying what your goals are.  They will then work with you to assist you in achieving those goals.  Your goals may be to live a healthy and active life, explore the arts, identify support services, assist with housing, benefits and financial support, gain employment or explore training opportunities.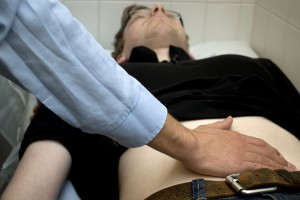 Addiction treatment (Tuesday, Wednesday and Friday)
We provide methadone and subutex treatments in conjunction with drugs counselling and harm minimisation.  Our addiction team runs an appointment-based system. To access treatment patients currently need to attend the Rectory Road centre afternoon drop-in service on Rectory Road (off the Cowley Road). They can then be referred back to our addiction team for ongoing care.
Other services
Dentistry – weekly on Tuesdays –access treatment by attending at 9am
Podiatry – monthly on a Thursday afternoon by appointment
Acupuncture – most weeks on a Thursday by appointment
Psychiatry – accessed via mental health practitioners
Oxford Homeless Medical Fund (OxHMF)
The charity exists to help patients with the costs of activities related to improving their health as well as key recovery activities such as money towards hobbies, education, training, or travel costs involved in recovery activities.  Applications can be made via our social prescribers, as well as other clinicians in the practice.
Chaperones
If you would like a chaperone with you during intimate examinations or discussions with the team, then please let a member of the team know and this can be arranged.  Depending on staff availability, we may need to move your appointment to another date or time.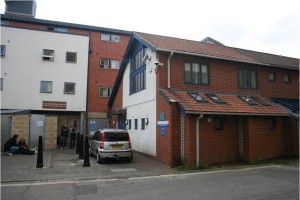 How to find us
We are the small building next to O'Hanlon House on Luther Street, which is at the bottom of Cromwell Street, off Speedwell Street.
Satnav postcode: OX1 1UL
Travel
Please note there is only very limited parking near the surgery and this parking is meter controlled and expensive. We strongly suggest visitors come by public transport. Many city busses and park and ride services stop on Speedwell Street, less than 100m from the surgery. We are also just a ten-minute walk from the train station.
Telephone: 01865 901571
Postal Address
P.O.Box 7
St Aldates
Oxford
OX1 1TD
Enquiries
Please contact the reception team who will be able to direct your enquiry.  They can be contacted via e-mail: lsmcreception@oxfordhealth.nhs.uk or telephone: 01865 901571.
We have over 30 years' experience in delivering medical education sessions and programmes to undergraduate and  postgraduate healthcare workers and other public and third sector agencies.
These include:
The award winning and nationally accredited Personality Disorder Positive Outcomes Programme www.pdpop.uk
Motivational interviewing skills workshops
Educational sessions on managing complexity in primary care, addiction and homelessness
To speak to us about education, please email Dr Rob Schafer, educational lead GP,  robin.schafer@oxfordhealth.nhs.uk
Please note we are not externally funded for our education programmes and sessions are chargeable. We can provide a quote based on your exact needs.
Medical student placements
We only have capacity to offer placements to University of Oxford medical students on their 5th year GP rotations. Sadly we do not have capacity to take students from other medical schools or elective placements.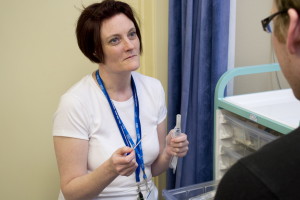 Luther Street Medical Centre is proud to have won the following awards:
Oxford Health Fusion Award 2013 for Mental Health Practitioner Service
Chief Executive's Award for innovation 2013 for the PATHS scheme
Prime Ministers Big Society Award 2013 for the PATHS scheme
The Corkill Award – Highly Commended N.A.P.P. (National Association of Patient Participation Groups) PPG of the Year 2014
GP Practice of the Year in Oxfordshire Health & Social Care Awards, 2021.
We are continually looking to improve and enhance our service and value your feedback.  You can speak to us regarding this, or you may want to use one of the following routes:
Patient Participation Group:
Be a participant of the group and provide direct input into how services are delivered
Provide feedback for consideration of the group
Please e-mail lsmcreception@oxfordhealth.nhs.uk or phone us 01865 901571 to express interest or provide feedback.
Completion of I Want Great Care Feedback Questionnaire:
Please complete the IWGC questionnaire here New – Review – iWantGreatCare.
Healthwatch Oxfordshire:
Feedback can also be provided through Healthwatch Oxfordshire, an independent health and social care watchdog:  Home – Healthwatch Oxfordshire
To make a complaint:
We are sorry that you feel that you wish to make a complaint.  Please raise this with our Practice Manager who will do what they can to resolve any problems that you are experiencing.  She can be contacted by e-mail: caroline.blanchette@oxfordhealth.nhs.uk or phone: 01865 901571.
If after speaking to the Practice Manager you feel that you would still like to make a complaint, or you would prefer not to discuss the matter with them, then please contact the Patient Advice and Liaison Service: Patient Advice and Liaison Service (PALS) – Oxford Health NHS Foundation Trust
We are sorry you did not find this page helpful
Tell us how we can improve this page
Page last reviewed: 16 August, 2021