Alice's positive thinking a welcome boon for mental health patients
A Buckinghamshire apprentice has donated dozens of 'positivity boxes' filled with goodies for patients affected by mental health problems in Aylesbury. Alice Rose, 18, delivered 80 boxes to Oxford Health ... Read more
A Buckinghamshire apprentice has donated dozens of 'positivity boxes' filled with goodies for patients affected by mental health problems in Aylesbury.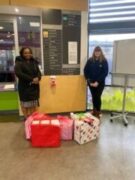 Alice Rose, 18, delivered 80 boxes to Oxford Health NHS Foundation Trust's Whiteleaf Centre on Saturday.
After raising funds from the public and seeking donations from local and big businesses, Alice packs the boxes full of goodies such as jewelry, hair scrunches, wax melts, toiletries, sweets – and that vital pick-me-up – chocolate.
Her delivery on Saturday left plenty of time for the boxes to spend a week in 'quarantine' before nursing staff hand them out to patients just before Christmas. The centre's four wards care for adults with mental health problems and older people with long term mental health conditions, such as dementia.
The idea came to Alice when, volunteering with another charity during the first lockdown last year, she was writing supportive and friendly letters to people with cancer.
Alice, who is currently completing an apprenticeship in special needs education at a school in Aylesbury, includes a letter in each box, filled with positive thoughts and encouragement. This reflects her interest in possibly working in mental health.
"When I finish my apprenticeship I'll have a qualification as a teaching assistant but I'd like to go into either mental health or do special needs teaching at a primary school," Alice says.
Her welcome contribution to the wellbeing of the Trust's patients means Alice has packed and distributed around 1300 boxes, having initially sent well over 100 to Stoke Mandeville Hospital, which is part of Buckinghamshire Healthcare NHS Trust. Alice has worked with voluntary groups to distribute boxes to more than 1,000 to people with mental health problems or facing other challenges in the community.
She says: "I was initially just going to do 100 or 200 but then it sort of went a bit wild because one of my TikTok videos got a lot of views. The public are also responding generously through my Facebook page."
Oxford Health Charity has also donated £200 so Alice can keep topping up the drawers where she stores all the gifts.
"I just put everything in drawers and then throw them open to pull out things for the boxes. Then my mum or boyfriend help me drop them at the hospitals as I don't drive."
Sib Nyathi, matron of two wards at the Whiteleaf Centre, said: "I know the patients will be so grateful to get a surprise box of goodies. They will be a real tonic when many of the patients are facing challenging times."
Julie Pink, who heads up Oxford Health Charity, said: "We're very grateful to Alice for her hard work and thoughtfulness – with the letter to each patient being a lovely added touch."
You can find out about donating to Alice's work or request a box through her website.
We are sorry you did not find this page helpful
Tell us how we can improve this page
Published: 17 December 2021