Oxford Health has been busy celebrating 75 years of the NHS this week
Staff across Oxford Health have been at the very heart of celebrations for the 75th birthday of the NHS this week.
Elaine Jones, Executive Officer to the Chief Executive and Chair​​​​​​​, was pictured next to the Health Secretary Steve Barclay inside Number 10 Downing Street as part of celebrations.
Elaine, invited to attend this 'Local NHS Champions' event on Tuesday, with other champions from around the country, said: "I felt very honoured and privileged to receive an invitation. It was totally unexpected, and I feel extremely proud to be recognised as a champion."
Six colleagues attended the service at Westminster Abbey in London to commemorate the creation of the health service in 1948.
Among them was Rebecca Holder, Allied Health Professionals Lead for Community Hospitals, who said afterwards: "It was an honour. The service was extremely poignant with many different voices sharing their experience and giving thanks to a wonderful institution, one which we are all so proud to work in. Honestly, it was such a privilege to be there with so many NHS colleagues and volunteers from across the country, I am so grateful."
Buckinghamshire CAMHS Mental Health Nurse Sally-Anne Phillips said: "It was an amazing day, the service was very moving. I will never forget the day."
Throughout the week, we've been flooded with stories from staff  telling us what working in the NHS means to them, with one capturing the mood by saying: "The NHS is about dedicating your life to the service of others, to ensure they get the help they need, when they need it, regardless of their ability to pay."
Teams across the Trust have been busy marking the occasion. Staff took part in the 'NHS Big Tea' by holding cake sales or tea parties to raise funds for Oxford Health Charity, joined by patients and service-users. Musicians entertained the crowds as part of a series of musical events across Oxfordshire amidst picnics, tea and cake.
Townlands Community Hospital, Henley on Thames, Oxfordshire, celebrated with cake and balloons.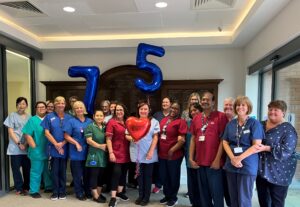 They were photographed, right, by their local paper, the Henley Standard, together with Royal Berkshire Hospital staff based on site.
Registered Nurse and Team Leader, Debbie Cricklands, working in the NHS for 27 years, speaking after the event, said: "We've got a lot to be grateful for with NHS. I love working for the NHS and wouldn't work anywhere else."
Receptionists Gigi Gallagher and Caroline Litherland at the Whiteleaf Centre, Aylesbury, baked and sold
dozens of cakes, raising £150. Caroline said: "We've all got to keep the NHS going."
We are sorry you did not find this page helpful
Tell us how we can improve this page