Training and education
OHI Quality Improvement Training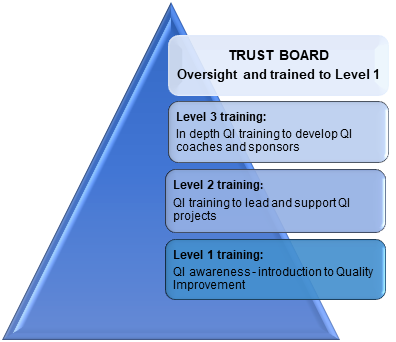 Teams will require support and knowledge to be able to undertake quality improvement work.
A fundamental requirement will be to provide them with the skill and confidence to manage and run a QI project and apply QI methodology.
To create a culture of improvement and QI awareness introductory QI training needs to be spread throughout the organisation.
The illustration above outlines the training strategy OHI have created detailing level of training and the aim of the percentage of the workforce to complete each level. We deliver our own courses and also contribute to other courses across the Trust, including Leadership and the Flyer Programme.
We train each member of staff involved in our projects so that they can continue to work together to make improvements after the OHI project has ended.

Learn more
Page last reviewed: 30 November, 2021