Falls Prevention Service (Oxfordshire)
What we do
F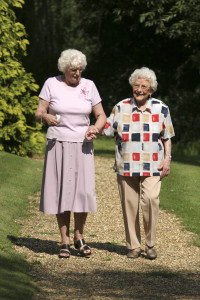 alls are not only the result of getting older many falls can be prevented. The Falls Service offers help and advice to help older people avoid falls and to regain confidence if they have fallen. Our emphasis is on assessment, rehabilitation and exercise as we know this is the most important intervention that helps to reduce falls and fractures.
We do offer home visits if patients cannot get out to a clinic or in the areas where we do not have clinic space.
Our operating hours are Monday to Friday 8.30am-4.30pm.
Our service
The service covers the whole of Oxfordshire and clinics are held at the outpatient departments of:
Abingdon Community Hospital
Wallingford Community Hospital
Witney Community Hospital
The service is provided by specialist nurses/occupational therapist that offer a detailed assessment and make recommendations about medication, physiotherapy, home adaptations etc.
We aim to see all patients referred to the service within eight weeks but our waiting time can be shorter than this. If patients are keen to be seen sooner than their allocated appointment and they are able to fill a last minute cancellation then we advise contacting the office.
Useful information
Patients can be referred by their GP or any other health care professional. All healthcare professionals can complete the referral form and we will offer a multifactorial falls assessment to those who meet our criteria.
We can also be contacted by telephone or email for advice and aim to respond within 24 hours.
We do accept self-referrals for those over the age of 65 years. Those under the age of 65 need to discuss their falls with their GP to see whether a more comprehensive assessment with a consultant would be appropriate.
Falls referral form (.docx)
Address: Windrush House, Windrush Industrial Park, Burford Road, Witney, Oxfordshire, OX29 7DX
Phone: 01865 903 400
Email: falls@oxfordhealth.nhs.uk
We are sorry you did not find this page helpful
Tell us how we can improve this page
Page last reviewed: 21 November, 2023