Hosted by NHS Charities Together, the NHS Big Tea is an annual event on the NHS Birthday to celebrate the NHS and its staff – their extraordinary efforts, dedication and positivity all year round. But this year is extra special, after year like no other we could not be more thankful for the NHS and the care they provide to our loved ones and communities.
The Oxford Health family are marking the NHS Big Tea with several activities, encouraged to take a break and have a cuppa.
Abingdon Community Hospital received a sweet thank you from BBC Radio Oxford. Emma Leaver (Community Services Director) and Helen Lambourne (Senior Matron) received boxes of cupcakes to thank Oxford Health staff for their hard work during the pandemic and to celebrate the NHS Big Tea.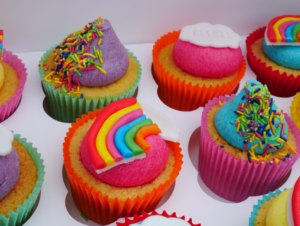 The Oxford Health Arts Partnership, made up of Creating with Care, Artscape and the Oxford Health Charity, held an NHS Big Tea socially distanced garden party at Witney Community Hospital following all COVID-19 guidelines. Whilst two of our community hospitals took part in COVID-19 safe activities, Oxford Health Charity supported staff across the trust by providing refreshment packs of tea, coffee and treats.
Creating with Care has been running for almost four years at Witney Community Hospital and have now expanded to other Oxford Health Community Hospitals. Their aim is to enhance the patient and carer experience through a variety of artistic activities, improving wellbeing and reducing anxiety, depression and stress by allowing people to escape from the hospital environment.
The NHS Big Tea event gave staff an opportunity to enjoy a cuppa with a cupcake in the hospital garden whilst Mary Lou Revue performed. Marie-Louise Flexen and Steve Skinley form Mary Lou Revue, a vintage song and dance act, bring musical entertainment to patients. As part of the Creating with Care programme, supported by the Oxford Health Charity, they have become a regular act at Witney.
Due to COVID-19, the duo performed from the garden, singing tunes like 'Sweet Caroline' as patients and staff watched in the garden and inside through the windows with cups of tea.
Julie Pink, Head of Charity and Involvement, said: "Oxford Health Charity were delighted to fund the tea, coffee and treats for staff across the trust in celebration of the NHS birthday. I particularly enjoyed being able to see the smiles on everyone's faces at Witney Community Hospital at the charity funded afternoon where the Mary Lou Revue were singing for our staff and patients whilst enjoying delicious cupcakes from Custom Cakes."
Angela Conlan, Creating with Care Lead, added: "It was so lovely to see the staff enjoying their break and cuppa this afternoon. The icing on the cake was one member of staff said she had forgotten how good it felt to dance!"
Today, we hope our staff and communities have been able to raise a cuppa to all the NHS staff, volunteers and anyone else who provides support.
If you would like to donate to NHS Charities Together for the NHS Big Tea, please text 'Tea' to 70207 to give £5.
We are sorry you did not find this page helpful
Tell us how we can improve this page