This week artist in residence Dionne Freeman is creating a new mural in the reception area of the Stroke Rehabilitation Unit OSRU. Dionne said:
"I love the work I do with the Oxford Health Charity. I feel extremely privileged to work in the hospital spaces. There is something magical about transforming a space through a wall painting, taking the ideas from staff and patients and working with them to visualise their thoughts. Having the opportunity to paint alongside the incredible work that happens in these spaces, and the warmth and kindness from staff and patients, is a constant source of artistic inspiration!"
Together with another artist in residence Sarah Moncrieff, Dionne has already completed a mural in the therapy room on Abbey Ward, enjoyed here by Senior Physiotherapist Karen Clarke.
Dionne has been guided by staff and patients on the design for the artwork in both wards.  For the mural on OSRU, staff voted on a few ideas, and on Abbey ward the ideas came from staff and patients through a participatory project. Creating with Care Lead Angela Conlan said:
"Oxford Health Arts Partnership runs projects throughout the year to engage those receiving care to express themselves through art.

"This may be a mural or mosaic for the ward or location where they receive care; it may be making or listening to music as part of a workshop or concert; it may be taking part in activities like drawing, painting or working with clay as part of programme of personal development and wellbeing.

"The impact of these projects is not just on the individual taking part but also on all those who visit our sites or care for people involved."
Coming up: Health Matters – Introducing Oxford Health Arts Partnership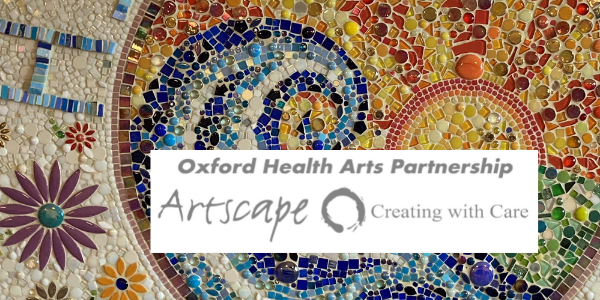 Join us at 12:30pm on Tuesday, May 10 to hear all about Oxford Health Arts Partnership in our Health Matters webinar!
Hosted by Angela Conlan, Creating with Care Lead and Tom Cox, Artscape Project Manager, our event marks the Mental Health Awareness Week. This year's theme for week loneliness and how we all can help lift someone out of loneliness. The Arts Partnership's fabulous creative activities in our community hospitals do just that, reducing isolation and alleviating loneliness. Sign up here to get a reminder of the event link.
Our event is aligned with the Age of Creativity Festival – Celebrating a Creative Later Life across England. This annual festival is led by Age UK Oxfordshire, with Age UK and hundreds of Age of Creativity network members across the country.
We are sorry you did not find this page helpful
Tell us how we can improve this page