The Lighthouse Parenting Programme is a ground-breaking initiative that uses an evidence based, mentalization-based treatment (MBT), art and group-based discussion to help adults to develop their emotional parenting skills.
The project is delivered by Oxford Health in Oxfordshire, Buckinghamshire, Bath and North East Somerset and Wiltshire. Its name comes from the idea that parents can act as a 'lighthouse' that sees their children clearly, and is able to provide a 'safe harbour' for them.
Until now the successful sessions have been delivered by specialists with an existing background in mental health, but the money announced last month from What Works for Children's Social Care will mean more people can be trained.
The successful funding bid was led by a partnership involving Bath & North East Somerset Council and Oxford Health. Bath & North East Somerset Council is the lead local authority for the six councils involved: Darlington, Stockton-on-Tees, Oxfordshire, Swindon, Wiltshire and B&NES.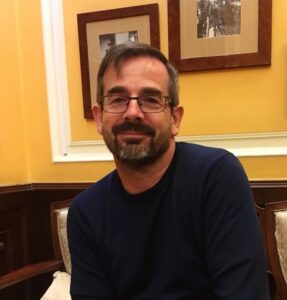 Gerry Byrne, Oxford Health NHS Foundation Trust's Head of Attachment and Perinatal Services, has worked with children and families for over 30 years and developed the programme. He said: "Children deserve the best start in life and look to their parents for understanding, acceptance and to show them the way.
"Unfortunately, some parents find that they are not well equipped and very often this is because their own upbringing was very difficult and didn't provide the nurturing environment they needed. In fact, many could have been neglected as children, and this can really impact on how someone develops as an adult. This often means that they find their way to us through the social care system and that is where many reach a real turning point."
"The better we understand our child the more successful we can be as a parent and the Lighthouse programme uses a range of techniques to really unlock the issues that might be preventing someone from being able to do this."
"How do we do this? Well, although there is a well-developed programme based on research and knowledge, a great deal of it is about people being able to tell their own stories and be listened to and, crucially, understood by us and each other in the group and individual sessions."
Councillor Kevin Guy, cabinet member for Children's Services at Bath & North East Somerset Council, said: "It's really exciting that we are at the start of this important project that will effect positive change for many families. It's going to provide many benefits to children's emotional wellbeing and support families to thrive independently.
"Helping parents to improve how they can emotionally support their children paves the way for those children to become confident, nurturing parents themselves in future."
The programme is delivered through twenty group and 10 individual face-to-face sessions over six months and has undergone detailed evaluation which has shown that it works. However, Gerry believes the true measure of success can be seen in parents who have completed their course.
One couple who took part in the scheme explained: "Whilst going through the group we learned a lot about our children, about ourselves as parents and also about how we are not alone in how we feel or what we are going through. Our journey wasn't always easy but because we had the help of a wonderful team and the work they do we are stronger as a family and as parents."
More information on Lighthouse can be found here.
Find out more about Bath & North East Somerset Council's services for children, young people and families here.
We are sorry you did not find this page helpful
Tell us how we can improve this page
Published: 20 November 2020