Pharmacy superstar Gemma highly commended in Exceptional People Awards
Gemma Laurie, Pharmacy Lead for the COVID Vaccination Project across the counties, has been acknowledged for her incredible contribution to the vaccine programme led by Oxford Health. Three of her colleagues had nominated her for the Exceptional People Awards, and in a surprise ceremony at the Kassam Stadium she was given the accolade of highly commended for January.
Gemma said:
"I was planning to have a catch up with Michael Marven, the Chief Pharmacist, at the Kassam so wasn't surprised to spot him in the entry area.

"Mick began to congratulate the staff on how well the centre was running and all that had been achieved. He then moved to talk about the Exceptional People awards – and then he turned to me to congratulate me for being nominated and that I was to receive a Highly Commended award. Honestly, I was completely shocked! I think I'm still shocked!"
Reflecting back on the project, Gemma said:
"I feel like I've just been doing the job I was asked to do – although saying that, I do remember Michael asking me to help set up a mass vaccination centre back in January 21 with the comment 'it should just be for 2-3 weeks' – and here we are a year later!

"The project has been a huge challenge with changes happening by the hour. You certainly need to be flexible to work at such a fast-moving pace – but here we are, about to hit 1 million doses."

"This last year has been a complete whirlwind. We have managed to achieve such an incredible amount of work in such a short space of time. Thank you to all my dedicated colleagues – I certainly couldn't have achieved any of it without them."
In the picture above, Michael Marven, Gemma Laurie, Murryam Malik, Vipul Patel and Daya Khuthan.
'True ambassador of the NHS'
Gemma had been nominated by Interim COVID Operations Director Anita Sherwood as well as Pharmacy Technicians Daya Khuthan and Vipul Patel.
Anita Sherwood wrote:
"Gemma continues to go above and beyond to support the COVID-19 Mass Vaccination Centre Programme. She co-ordinates all our COVID vaccine supplies and has daily oversight of pharmacy support across all three centres."
And Daya said:
"In my ten years of pharmacy locuming, I've never come across somebody so driven, dedicated and compassionate towards patient care, as well as being a single parent with two young children. She is a true ambassador of the NHS."
Vipu Patel summarised it:
"Gemma is nothing less than a super star, continuously working with extremely high standards and at the same time taking the whole team with her for great success."
Nominate now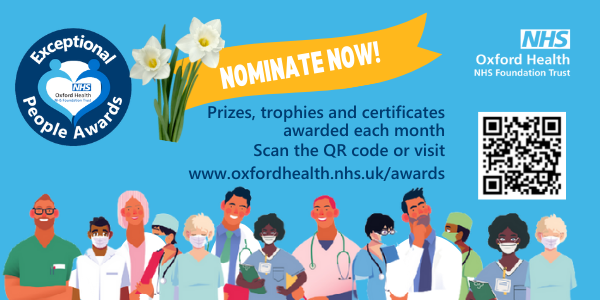 Put the spring in someone's step and nominate them for the Exceptional People Awards! Closing date for March submissions is March 16.
However, nominations are accepted at any time, so if you miss a certain month's deadline, your nomination will simply roll into the following month.  Find the nomination forms and rules here.
We are sorry you did not find this page helpful
Tell us how we can improve this page
Published: 22 February 2022