Team leader Emma Short from Oxford City Learning Disability Community Team overcame her reluctance to be in the spotlight and applied to become a Queen's Nurse – and in December she was awarded this prestigious recognition.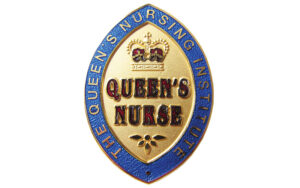 The title is available to individual nurses who have demonstrated a high level of commitment to patient care and nursing practice – and Emma certainly has. She qualified as a nurse in 1992 and has devoted all her career to learning disability nursing. In her personal statement to the Queen's Nursing Institute, she recalls her first day:
"I had never met anyone with a profound learning disability before, and after my first practical day on the job I loved it and have never wanted to do anything else since."
But the idea of putting herself forward for any kind of recognition was more than alien to Emma.
"I hate being in the spotlight!," she says.
However, when the invitations to apply to become a Queen's Nurse came around last year, she looked into it.
"I already knew that our nurse consultant Simon Jones in the Learning Disability Services is a Queen's Nurse. I'd been a nurse for 30 years and never really knew anyone else who would have got that award and used it to develop and support their services. So, I thought, why not. We should be raising the profile of learning disability nursing and one of the ways that we can do that is the Queen's Nursing Institute and this title."
Leading the team
In her daily work Emma leads a multi-disciplinary team of 30 professionals, who support just under 200 people with a learning disability in Oxford City. Emma explains:
"We encourage and support and advocate for people with a learning disability to access ordinary health services, with reasonable adjustments where needed. But if that's not possible because of their learning disability, we then take on that role and support them with their health needs. In our team we've got psychology, nursing psychiatry, occupational therapy, physios and speech and language therapists that all work together."
For a long time now Emma has held primarily management roles. She says:
"I think I'm a problem solver. I love to unpick and unravel and find a solution to a problem. And by the time people get to us, there usually are some problems to unpick and some ways to navigate through!"
Along the management tasks, Emma has kept a couple of active patient cases in her work to stay in touch with the front line – until the pandemic.
"It's just been too busy with COVID so I don't have an active case load at the moment. Now, supporting the staff team and seeing them enabled to crack on with the clinical work is what I enjoy. I like seeing a happy, healthy, keen team."
Joy of life
From her early career Emma has remained passionate about alleviating the health inequalities that people with a learning disability face.
"We must raise the ground to meet people who have difficulty in accessing, understanding, and using healthcare facilities. We must remember that often they cannot communicate their distress, pain, needs or feelings in a way that is helpful for most people to see or understand," she says.
Emma says that learning disability nursing has given her enormously more than a career. In her statement she wrote:
"As a 19-year-old, I learnt so much about myself; I was becoming independent alongside the people that I nursed and as such my learning has never really stopped.

"I have taken my experiences and the learning that people with a learning disability have given to me through my adulthood, into motherhood and now into middle age and even during the death of my mother. This may seem irrelevant, but part of this job's amazing appeal has been the support that it has given back to me. The courage and adversity I see people going through strengthens my own resolve and joy of life."
And although Emma is not keen on being in the spotlight, she sees being a Queen's Nurse as an opportunity to be an ambassador for learning disability nursing. She says:
"I want to increase people's knowledge and acceptance of those with a learning disability, create improved health outcomes and opportunities for them and ensure there are opportunities for an increased general visibility and joy of involving people with a learning disability across all areas of community life.
What is a Queen's Nurse?
All nurses, health visitors and midwives with five years' experience working in the community are eligible to apply to become a Queen's Nurse. The Queen's Nurse title will:
Connect you with a supportive professional network
Give you access to the Queen's Nursing Institute's  free developmental programme, bursaries and networking
Provide formal recognition of your commitment to improving care for patients
Link you with a regional Queen's Nurse group
Entitle you to attend the Queen's Nurse annual meeting
Provide other learning and leadership opportunities.
Thinking of applying?
Applications to become a Queen's Nurse are currently closed; the charity is advising you to check in the beginning of March 2022 for the next opportunity to apply. Meanwhile, take a look at the general criteria for applying.
We are sorry you did not find this page helpful
Tell us how we can improve this page
Published: 14 January 2022