Shining a light on mental health on International Women's Day
On International Women's Day researchers from Oxford Health Biomedical Research Centre (BRC)  joined with Oxford's Asian Cultural Association and M&A Social Enterprise to create an event focussed on women's wellbeing ... Read more
On International Women's Day researchers from Oxford Health Biomedical Research Centre (BRC)  joined with Oxford's Asian Cultural Association and M&A Social Enterprise to create an event focussed on women's wellbeing and mental health.
As well as games, karaoke and food, the event included a mental health workshop aimed at breaking down barriers around talking about mental health. It provided a space for people to share their own thoughts and experiences. Researchers from the BRC shared information about their work along with interactive activities, including the opportunity to try out a virtual reality headset being trialled as a treatment for some mental health conditions.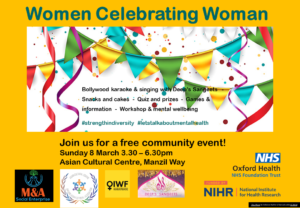 Claire Murray, Public and Patient Involvement Manager at Oxford Health BRC explained "The even shone a spotlight on mental health and some of the amazing research that is taking place in Oxford. It was fantastic to have so many people sharing their experience and discussing how we can all support better brain and mental health."
Read more about the event in the Oxford Mail.
We are sorry you did not find this page helpful
Tell us how we can improve this page