A state-of-the-art community mental health hub with sustainability at its heart is opening in Buckinghamshire.
Saffron House –  South Buckinghamshire Community Mental Health Hub will bring together Buckinghamshire mental health services from the south of the county in the former register office in Easton Street, High Wycombe.
The move will bring together expertise and facilities to boost care for South Buckinghamshire people of all ages and throughout their lives.
And Oxford Health NHS Foundation Trust, which runs Buckinghamshire's mental health services, has placed sustainability at the heart of the building's redesign.
The hub has been co-created with people who use mental health services and staff in South Buckinghamshire.
Adult mental health services moving to Saffron House South Buckinghamshire Community Mental Health Hub are the Adult Community Mental Health Team, talking therapy service Healthy Minds, the Early Intervention Service, the Perinatal Mental Health Service and the Crisis Team.
Child and Adolescent Mental Health Service and the Older Adult Mental Health Services including Memory Clinics will also be based at Saffron House.
All services are moving just a mile or less from their existing offices and clinics.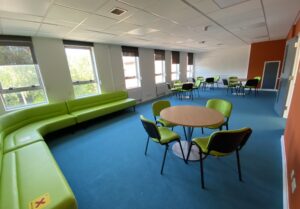 Services will be zoned with separate entrances for service-users of different age groups. The site will also benefit from increased public parking for people attending appointments, nearby public transport links, onsite refreshments and great accessible facilities.
People who use mental health services shaped and codesigned the new site.
Young people designed the reception area of the hub have been asked about for names for the space and building.
The hub has been developed as an ecological flagship for the trust – with environmental sustainability a top priority.
Energy-saving is part of the building's operational policy and there will be green staff champions promoting sustainability among colleagues onsite.
Lighting is low energy, low waste and calming LED. Staff were asked to complete a travel survey ahead of the move to find out how they travel to work. They have access to an electric pool care and e-scooters and there are cycle bays and electric vehicle charging points at the site.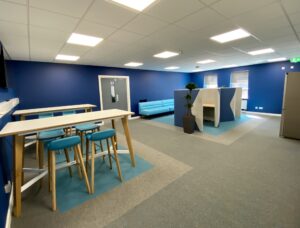 Saffron House was chosen as the name for the South Buckinghamshire Community Mental Health Hub following a staff vote after ideas were put forward by patients, staff and the High Wycombe Society.
Buckinghamshire Clinical Director Vivek Khosla said: "We are excited so many patients and staff have contributed to the coproduction of Saffron House to create a mental health centre we can all be proud of and that will support our patients living in South Buckinghamshire.
"The creation of the hub offers us a unique opportunity to raise general awareness in the community and continue to reduce mental health stigma."
We are open
Buckinghamshire's mental health services have remained open throughout the coronavirus pandemic. Help is available for all adults, children and young people either in person, via telephone and video conferencing or through online platforms and apps. Since the start of the pandemic we have continued to see people face to face when needed and via digital consultations.
Anyone concerned about their mental health or wellbeing should reach out for free NHS support and Buckinghamshire's mental health services have lots of tips, information and advice on their webpages.
There is a range of very helpful information on the NHS Every Mind Matters website.
If you use our services, want to know more about Buckinghamshire mental health services or have feedback for us you can also contact our Patient Advice and Liaison Service.
We are sorry you did not find this page helpful
Tell us how we can improve this page