A right Royal celebration!
Smiles, laughter and a few happy tears amid the jubilee fun at Oxfordshire's community hospitals. Take a look at the pictures from our joyous jubilee celebrations.
Oxfordshire's community hospitals celebrated the Platinum Jubilee in style this bank holiday weekend.
Amid the cream teams and bunting were a host of activities for patients and staff including a bit of creative crochet and yarn-bombing and quizzes plus entertainment from Mary-Lou Revue,  the Orchestra of St John and Oxford Health's own musician in residence Dave Noble.
Celebrations took place in beautifully-tended and decorated gardens over the jubilee weekend in Abingdon, Didcot and Witney. And last week Wallingford celebrated with a party amid a stunning balloon display.
Local staff, craft groups and keen knitters and crocheters joined the fun to yarn storm our community hospital gardens with red, white and blue decorations to mark The Queen's Platinum Jubilee.
And Abingdon EMU volunteer Steve Cook also displayed 70 photos of the Queen – one for each year of her reign.
District nurse Frankie Pacey even through current buns at friends, family – and patients – as part of Abingdon's unique and historic event in honour of the Queen.
What's more – the fun doesn't stop there—with festivities continuing throughout the month at Bicester and City hospitals.
Oxford Health Arts Partnership, support by Oxford Health Charity, is leading on the celebrations which have been organised by staff, volunteers and Angela Conlan, Creating with Care Lead for Oxford Arts Partnership. Oxford Health Charity has funded refreshments for patients throughout the trust.
Creating with Care lead Angela Conlan said: "The celebrations went incredibly well. Despite the weather we found moments of sunshine and there were some really magic moments. The music could be heard across the hospitals, travelling down the corridors to be enjoyed by everyone. It made people, smile, laugh, cry in a good way – everyone really enjoyed themselves.
"It was incredible to see patients enjoying themselves. We did a quiz and when one gentleman won and received his prize he was moved to tears. It really was special.
"A lot of staff have said to me they need this moment. After the last few years it is a ray of hope and sunshine. People have  been working incredibly hard and there's lots of evidence spending time in green spaces, taking part in activities and remembrance make people feel better."
Witney Community Hospital
Abingdon Community Hospital
Didcot Community Hospital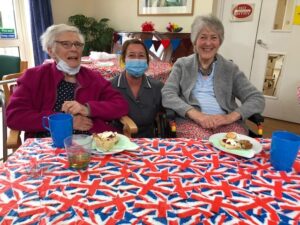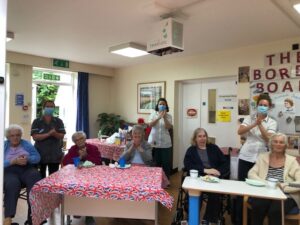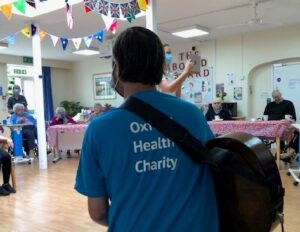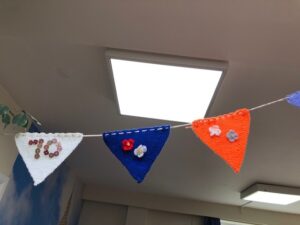 Wallingford Community Hospital
We are sorry you did not find this page helpful
Tell us how we can improve this page