Make our community your community
Local people heard first hand from staff about their experiences of healthcare careers and opportunities in Oxfordshire.
At Oxford Health NHS Foundation Trust we offer enriching and successful roles at every stage of a person's career.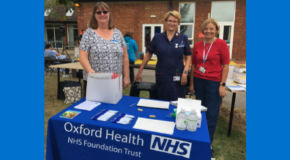 At a unique pop-up recruitment event we offered people a chance to learn more about our current vacancies and career opportunities at our six community hospitals in Oxfordshire and supporting people in their own homes.
Our Community Hospitals are set in the beautiful area of Oxfordshire, located in the heart of Abingdon, Bicester, Didcot, Headington, Wallingford and Witney town centres.
Colleagues from nursing, physiotherapy, occupational therapy, stroke-specialists and geriatric medicine were all on hand to help alongside our recruitment specialists.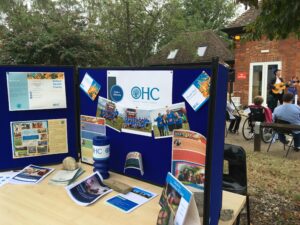 There was a chance for people interested in volunteering with us to find out how they could donate their time and skills alongside an opportunity for guests to learn more about the work of Oxford Health Charity.
Visitors could also hear about all the development opportunities the trust offers from apprenticeships to masters modules, becoming a staff wellbeing champion or environmental advocate, or our research and clinical development offer.
Patients and guests alike enjoyed entertainment amid the event held at Abindgon Hospital. Dancing Juke Box Gems, a production by Wriggle Dance Theatre, were at the hospital to entertain patients with songs, dance and reminiscence from the 50s, 60s and 70s as part of the Creating with Care programme.
Kate Riddle, Acting Head of Service for Community Hospitals, said: "The event was ideal for local people considering a career in healthcare or looking for the next opportunity and challenge. It was really great to see such a range of people who live on our doorstep, new to the country and are part of the community take an interest in working close to home with us to care for local people. There was lots of information about nursing or working as a healthcare assistant, physiotherapy and occupational therapy as well as volunteering. Colleagues were able to share information about how we work locally, what it's like at Oxford Health and how we provide care for patients accompanied by the Creating with Care music event for patients, funded by Oxford Health Charity, a perfect example in action on the day.
"People's interest and enthusiasm was clear to see and we were able to provide information about job opportunities and arrange to follow up to support applications and for people to come in and find out more about the roles and career development opportunities so we're looking forward to welcoming local people into our community hospitals and local teams very soon."
If you have the commitment, energy and skills to make a real difference to people's lives Work With Us
We have flexible working patterns to suit you and a generous annual leave allowance and pension scheme.
And we are here to support people taking their first steps or looking for the next step in their career.
To find our more about working in our community hospitals or for our community services in the local area contact CommunityHospitalRecruitment@oxfordhealth.nhs.uk
We are sorry you did not find this page helpful
Tell us how we can improve this page
Published: 9 September 2021