Witney Housekeeping Team praised for their contribution to patient care
The Housekeeping Team at Witney Community Hospital became highly commended in Exceptional People Awards for October. Facilities Manager Marie Dunstan presented the award to Head Housekeeper Donna Kearsey and some of the Housekeeping and Portering team who were on duty.
The team had been nominated by registered nurse Katie McGovern, who praised their contribution to safe and effective patient care:
"They always make sure the environment is clean and safe for patients. Also, there are very few toilets and hand washing facilities for staff, yet these are always very clean.

"Because of this team, patients can be admitted to our ward at a short notice, and we have confidence that touch points such as handrails and doorknobs are always clean."
And she gave an example of the team's initiative:
"A male patient needed to be admitted, but only a female bed was available, so beds needed to be moved along with all their all their bits and pieces. The housekeeper organised her work to do this as quickly as possible, so that everything was super clean and tidy, and the patient could be admitted."
Nominate now for March!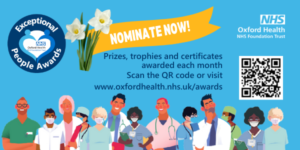 February awards are just being judged but we are already calling for nominations for March!
Has someone made a difference to you or your loved one? Nominate someone special or a top team for Exceptional People Awards here.
We are sorry you did not find this page helpful
Tell us how we can improve this page
Published: 1 February 2023