Another BEE springs surprises Oxford Health workers
There was a surprise in store for two Oxford Health colleagues when they arrived for ordinary meetings at the Trust's Warneford Hospital in Oxford.
Rebecca Holder, Interim AHP Lead for Community Hospitals, thought she was joining Sam Rigg Head of Allied Health Professionals (AHPs) for Community Services for her regular one-to-one. And Karen Lopez, Paramedic and Clinical Lead for Minor Injuries, was also supposed to be having a team meeting with her colleagues.
Instead, Marie Crofts Chief Nurse, Sam Rigg and Emma Croft, Head of AHPs for Mental Health and Learning Disabilities were waiting to award them in the grand setting of the Warneford board room to hand over "BEE Award" accolades.
Rebecca wins trophy for 'juggling plates'
BEE award winner Rebecca also received two nominations from colleagues for being 'a special, dedicated professional with infectious positivity, leading with pure kindness and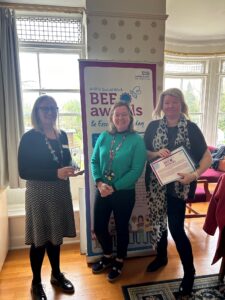 understanding' and 'Becks juggles many different plates but always seems to do so with excellence and makes clear the health and well-being of the therapists is of utmost importance'.
A second nomination explained 'Becks is an invaluable source of support, knowledge and a shoulder to cry on…. At the forefront championing AHPs and ensuring our voice is heard and respected across the system…. You can see the positive impact in our work and partnerships across the system as we all work together to achieve the best outcomes for our patients.'
Rebecca said: "
I feel overwhelmed and surprised! I didn't expect this. So many clinicians deserve this, but it is so lovely to be recognised and it means so much to me. I feel humbled." Rebecca was presented with her locally made glass award and BEE goody bag.
Helpful and supportive Karen receives commendation
Karen received a highly commended certificate after receiving two wonderful nominations from colleagues was described as 'helpful, supportive and caring, going above and beyond for her team'. Karen's second nomination said she was 'understanding and approachable, always finding time for her team'.
Karen said: "It was a real surprise to be nominated and I am most grateful and appreciative to those that nominated me.
"I have worked in the same role and with the same team for many years now and they are a fabulous team that support not only myself but also each other, it's an absolute privilege to work alongside such hardworking and dedicated people."
Surprising colleagues with a BEE always wonderful
Marie Crofts explained: "It's wonderful to bring our winners together and surprise them with their awards. It's always a highlight to be able to recognise and celebrate these amazing AHP's."
The Bee awards run throughout the year and are set up to celebrate our AHP's and Social Workers in the trust. If you know an excellent clinician please nominate at The BEE Awards – Oxford Health NHS Foundation Trust
We are sorry you did not find this page helpful
Tell us how we can improve this page