Covid vaccinations on day 2 at the Kassam Stadium couldn't have been a more Oxford-centric celebration.
Oxford Health's mass vaccination centre warmly welcomed Professor Andrew Pollard, the man behind the Oxford University team which developed the Oxford vaccine.
He was on site to volunteer his time as a vaccinator as the organisation accelerated its inoculation programme for at-risk front line staff who care for patients across in its hospital wards and in the community.
Professor Pollard's first patient was the Trust's chief executive Dr Nick Broughton.
Dressed in his bright blue scrubs, Nick ran through health checks with the professor before the life-saving inoculation was quickly and expertly administered.
The CEO, who spends time on wards meeting staff and patients, will have to wait just over two weeks before the vaccine takes effect and offers him a protection of around 89%. He was booked in for his follow-up dose in 12 weeks' time.
Nick commented: "It was an absolute privilege to meet the man who led the work to develop the Oxford vaccine that will help save so many lives. To have Professor Pollard give me first dose was humbling.
"I was able to spend some time with him and introduce him to the team who have so skilfully created this vaccination centre which will be helping the public from next week."
Prof Pollard added: "To see a vaccination centre in Oxford delivering the vaccine that was developed in the city is a great moment.
"So much hard work has gone into getting to this stage from the researchers developing the vaccine and the Oxford Health team making all the arrangements to set up and run an efficient vaccination centre.
"Many volunteers from Oxfordshire took part in the clinical trials and it is a huge credit to their commitment that we can benefit from this vaccine today.
"We anticipate that the vaccination of as many people as possible as soon as possible will start to have a big impact on hospitalisations and is something everyone has been hoping for.
"However, vaccination is only one part of the story – people should continue to follow public health measures, such as observing the rules of lockdown, social distancing, wearing masks and washing their hands until we get the virus back under control."​​​​​​​
Today's events were witnessed by national, regional and local journalists who were keen to capture the vaccinations and speak with staff who were receiving their vaccinations.
Among them was Charge Nurse Toyin Okuyemi who works on a low-secure forensic mental health unit at Littlemore.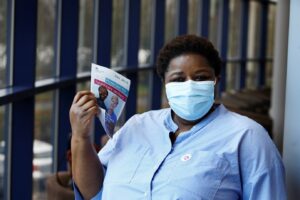 She is passionate about the vaccine and is encouraging all her colleagues to get theirs.
"I am so pleased to get it; it's the moment I've been waiting for," she beamed, clutching her vaccine leaflet and proudly wearing her 'I've had my Covid vaccine' sticker.
"Everyone has been working so hard and been so careful to prevent the transmission of COVID-19 and I see the vaccine as another weapon that will help us all.
"We will all still need to stick to the lockdown rules and be very careful; but getting my vaccine really has been a boost.
Senior clinical psychologist Josef Schwaerzler, who works on the Vaughan Thomas male inpatient ward at the Warneford Hospital said: "In my line of work it is really good to be able to give staff and patients as much reassurance as you can. And the vaccine helps greatly with that. Knowing that you have the vaccine alongside all the other precautions is an enormous boost.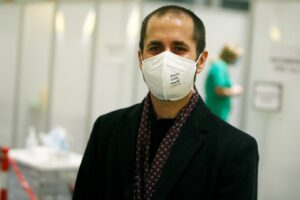 "The NHS has faced numerous challenging months with COVID-19 and I continue to urge those in our communities to stay at home. Please have your COVID-19 vaccine when given the opportunity – help protect your loved ones and the NHS.
"This has been a tough time for many, I would like to remind everyone to reach out for help when you need it, Oxford Health provide support and guidance for mental health all of which can be found on our website."
Aleethia Schwenger is an occupational therapist on Allen ward at the Warneford Hospital. She said:  "I am pleased to have the COVID-19 vaccine – I want to protect my patients, colleagues, community and myself against the virus.
"My role is to enable patients to engage in their activities of daily living, including areas of self-care, productivity and leisure. The aim of occupational therapy is to improve patients' functioning, confidence and routine, so they can live their lives to the fullest.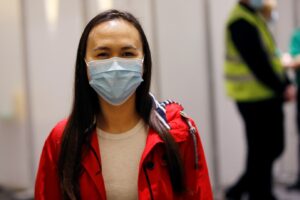 "The pandemic has challenged the way we all work, socialise, shop, exercise, play – and caused a huge disruption to our daily lives. Taking this vaccine is a small step towards restoring the well-being that 'normal life' allows."
The public aged 75 and over have been offered an appointment at the centre from Monday, February 1 via a national booking system. They are being contacted by letter and by phone to make an appointment for their first dose of the Oxford AstraZeneca vaccine.
If they cannot or do not want to travel to the Kassam, which will open seven days a week, from 8am to 8pm people from next Monday, February 1,  for booked appointments, they can wait to be invited to be jabbed by a local GP service or hospital hub. People are reminded not to turn up to the Kassam Stadium without an appointment.
We are sorry you did not find this page helpful
Tell us how we can improve this page
Published: 26 January 2021