It's now a year since our COVID-19 vaccination team started work at the Reading Mass Vaccination Centre, and they have been celebrating the special birthday in style!
This time last year Oxford Health opened its second mass vaccination centre at the Madejski Stadium, the home of Reading FC, and welcomed the first people through the doors.
Since then the team has moved to a new home at the Broad Street Mall in the town centre and continued to vaccinate many thousands.
Lesley Crosby, senior clinical lead for the vaccination programme, said: "Nobody knew when we set the centre up how long we would be active for, but since day one everyone has been incredibly professional and committed and they remain so
"We have a fantastic team here which includes people with a really wide range of skills and backgrounds and I want to take this opportunity to thank everyone who has given so much to make Oxford Health's vaccination programme a success.
"Anyone who comes to our centre at the Broad Street Mall receives a friendly welcome and is looked after from the moment they arrive to the time they leave. We have had so much wonderful feedback from members of the public which is really appreciated."
Team members are shown marking the big occasion below.
First photo – Henry Lee, John Thackaberry and Gordon Wickens.
Second Photo – Chika Embeo, Progress Kanyepi and Tendai Kaityo
Third Photo – Elizabeth Siyandhu and Jacqueline Casbolt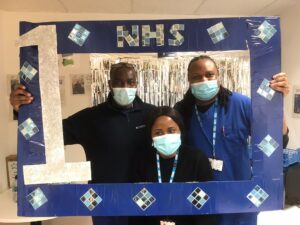 We are sorry you did not find this page helpful
Tell us how we can improve this page
Published: 27 February 2022