Oxford Health Charity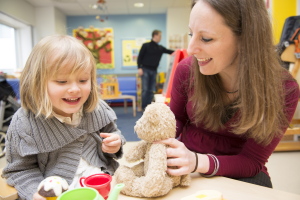 People are often inspired by the care they or their family members have received from our services. They are keen to express their appreciation by making a donation or raising funds to improve patient or staff experience.
Oxford Health Charity was set up to enable people to show support for the services they value and to provide benefits over and above basic NHS provision. Your donation or fundraising activities can result in major benefits for our patients and service users: a physiotherapy gym, for example, or musical equipment, sports facilities or artwork that enhances the patient environment. Money you donate or raise could also be spent on specialist equipment or educational resources for patients, carers or staff.
Do you know someone affected by dementia and want to raise funds for our older adult mental health services? Or has your child been treated for an eating disorder and you would like to say thanks?
Oxford Health Charity supports services across the trust both for inpatients and for those in the community, including our mental health services in Oxfordshire, Buckinghamshire, Swindon, Wiltshire and Bath and North East Somerset and our community services in Oxfordshire.
ROSY (Respite nursing for Oxfordshire's Sick Youngsters) is part of Oxford Health Charity and concentrates on raising awareness and funds for respite nurses in Oxfordshire.
Make a donation through Just Giving now
or

Oxford Health Charity (reg charity 1057285)
Last updated: 14 August, 2017